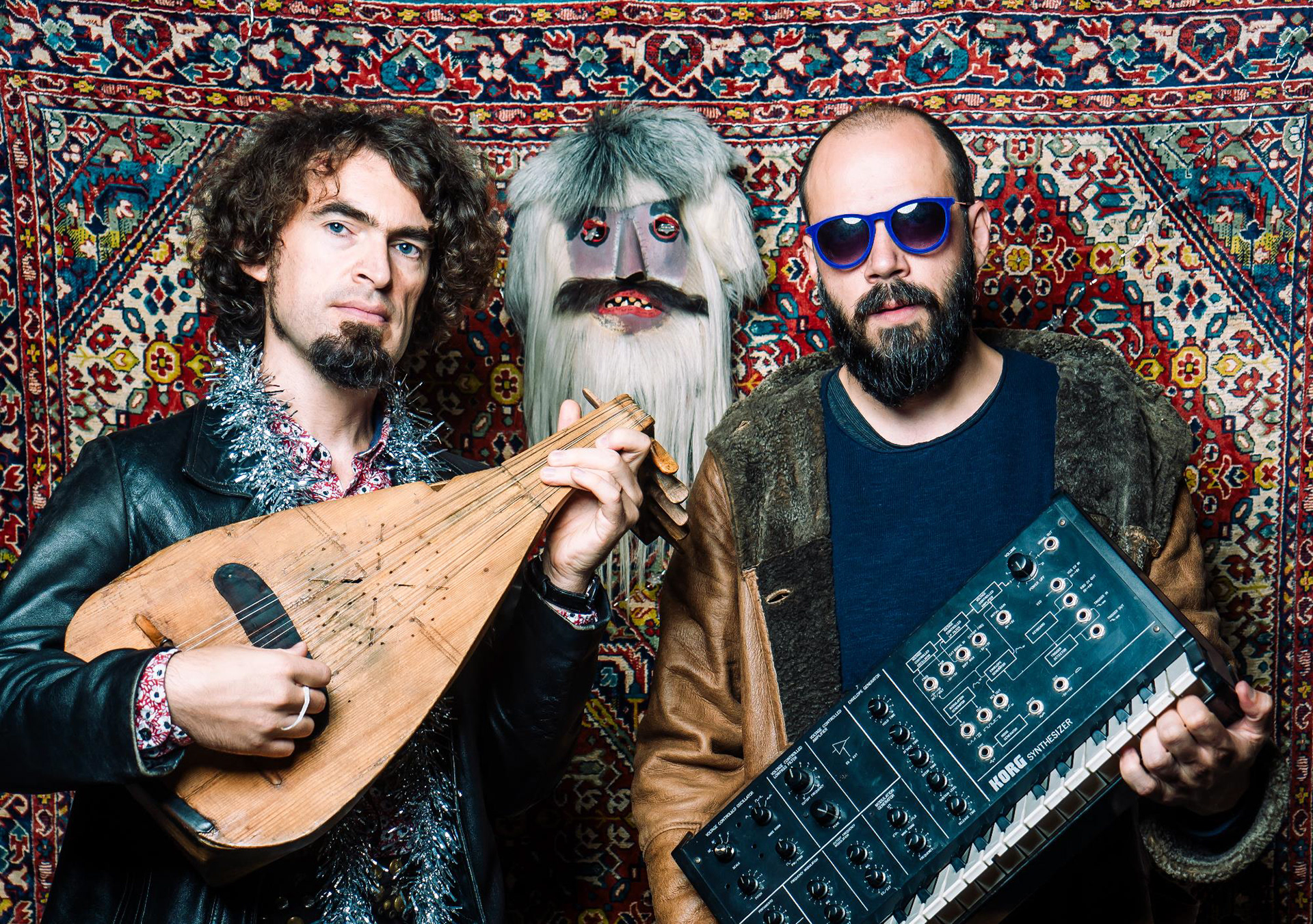 On May 28th, Buda Musique will release
Disko Telegraf
, the long-awaited debut album by
Balkan Taksim
.
Disko Telegraf
, recorded in its entirety in Sașa's and Alin's home studios in Bucharest during the past two years, is an emotional Balkan rollercoaster which has its roots and ideas many years ago when Sașa traveled alone through the Balkans, spending a large amount of time in Anatolia. All these experiences marked him deeply and contributed decisively to the birth of this album and are explained in delicious detail by the artist.
"I remember the powerful moment when I discovered the family of the baglama – the Turkish saz. It happened in a small town's colorful market, in the Aegean part of Turkey. That impression made me buy a saz, later on, in Konya, the unforgettable capital of The Whirling Dervishes. There, people from various layers of the Turkish society tried to help me understand tiny bits of their music and customs. One day I visited a derviș and the next day a hairdresser who was playing the ney. Some other times darbuka players from various shops showed me their skills. In my spare time I was recording  various sounds of the city - even the calls for prayer.
The weddings that I witnessed in the streets of Konya made me rethink the relation we had in Romania with  both the agrarian and the communist past of our region. And not only because of the "traditional" gunshots that could be easily heard on top of the sounds of the elektro-saz. No...

Some years ago, in the Balkans, I had the privilege to record stories and songs of the Aromanian comunity. I could sometimes feel, be it in the Aromanian, Bulgarian or Macedonian  villages, some traces of their Ottoman past, mixed with the Slavic ancient customs and Latin words.
And there it was - the music, sung by that old couple in Velingrad or played on mandolin in Kruševo, in a unique and beautiful house, filled with photographs.
Voices of kids having fun in the streets, stories and songs, the sheep going into their sheds. 
Memories of the Serbian villagers who taught me how to make goat cheese, somewhere near the Danube, are inextricably mixed with the layered sounds of both Romanian and Serbian music from a religious feast in August.
I think of the last rural cobza players from North Moldavia, with their stories and tangled explanations. My strong belief that I was going to learn something from them, my obsession for finding old peasant instruments, the kind that nobody makes anymore. And, yes, I'll always remember  that  fiddler who fell asleep right next to me, having already had one too many, early in the morning.
I still keep those goose feather cobza plectrums I was given by the old lăutar Constantin, as he no longer had his instrument around. Thinking how he sold it years ago still made him a bit melancholic.
Old photographs, plastic flowers, cellphones and plum brandy.
Things from the past become things of the future."

Disko Telegraf

tracklisting:
1. Meram Ekspresi
2. Zalina
3. Shlonak
4. Cartes Postales
5. Ușak Ekspresi
6. Žali Zare
7. Lunca
8. Anadolka
9. A Mirelui
10. Mortu
11. Ankara Ekspersi
12. Foaie Verde
13. Balkan Teleskop