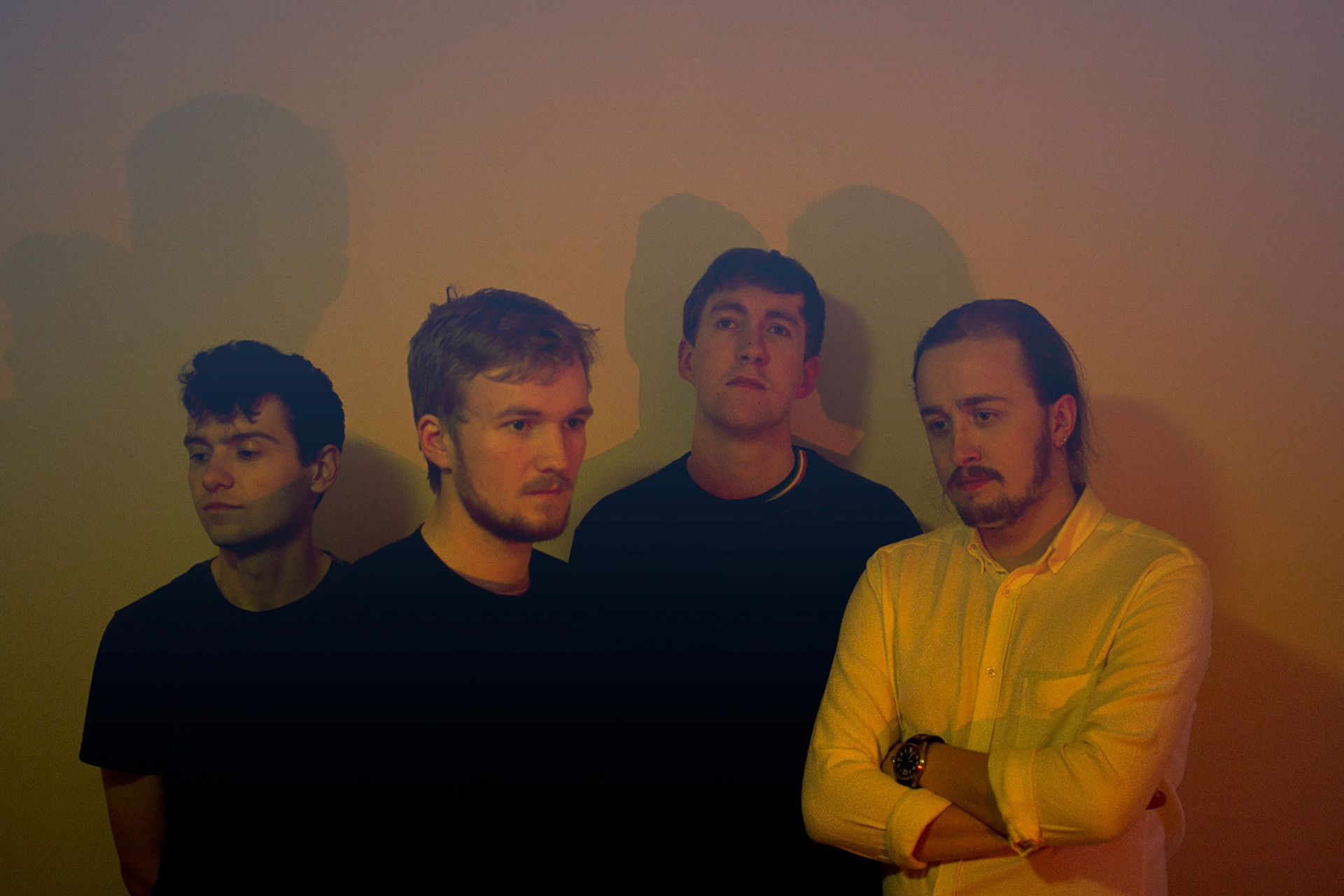 Sheffield and London based alternative four piece
Dead Slow Hoot
find comfort with their latest single - '
Until Your Breathing Drowns It Out
' - a euphoric track taken from their new EP '
A Kinder Kind
', which is due out on the 17th June 2021. This latest instalment sees the band embracing a meditative approach to tackle anxiety. 
'I wrote the chord progression for this song with the sole desire to write another song in 5/4 time, but there are too many chords in there and I felt like it kept pulling me back into standard 4/4 time in the choruses. It's strange because that sounds like it would make quite a stressful song but it allowed for a really subtle chorus to emerge and the lyrics came really naturally with that. The phrase 'until your breathing drowns it out' was a kind of mantra I kept saying to myself on long cycle commutes to and from work as a way to stop myself from overanalyzing my shit. The rest of the lyrics are really about trying to see yourself in context with the rest of your life and find something joyful in engaging with what you're doing right now, which I think is quite comforting. I really wanted to make a song that was calming because the chord progression is one I can sit and play for hours on a loop as a kind of meditation.'
Spawning from a rebellious tangent in a gospel choir backing band, Dead Slow Hoot gained early support from the likes of 6Music and BBC Introducing from their debut album '
No Reunions
' - they have mastered the ability to hit deep with their poetic lyrics blended it with bittersweet post-punk sounds. Ticking the boxes of the likes of Talk Show, Yowl and Do Nothing. This new EP - '
A Kinder Kind
' is the next step for Dead Slow Hoot, with grinding guitars and a powerful message that grows each track. It provides the ideal platform for the band's ability to harness their sound not just musically but lyrically with their unique social commentary.
Dead Slow Hoot earlier this year announced their new EP '
A Kinder Kind
', teasing us with singles '
Taller Tree
', '
Gesticulating Wildly
' and '
Low Road
', which has seen the band gain popular support from the likes of Earmilk - labelling their atmospheric sound as "setting them apart from the rest". With support from When The Horn Blows - calling Dead Slow Hoot "the dark horse release of the summer", and tastemakers such as Beats Per Minute, Mystic Sons and Words for Music all praising this run of new material from the band. Alongside this online support, Dead Slow Hoot have seen a run of radio play from the likes of BBC 6 Music, Amazing Radio and Christian Carlisle declaring that he "absolutely adores this band" on his BBC Introducing in Sheffield show.  
"
A Kinder Kind
documents a period of time where I couldn't match my expectations with my reality and set out trying to change that, but I placed all of the blame in the wrong places and turned into a completely toxic version of myself. I didn't know how to communicate what I was feeling at that time, but as I reflected on what was happening I would have intense realisations about myself, which became this collection of songs. Each song marks a specific point in that journey, from the beginning to the end." 
Dead Slow Hoot have announced the release of their new EP '
A Kinder Kind
', which will be available via all streaming platforms on the 17th June, along with a special vinyl release via Philophobia Music which will be limited to just one hundred copies.