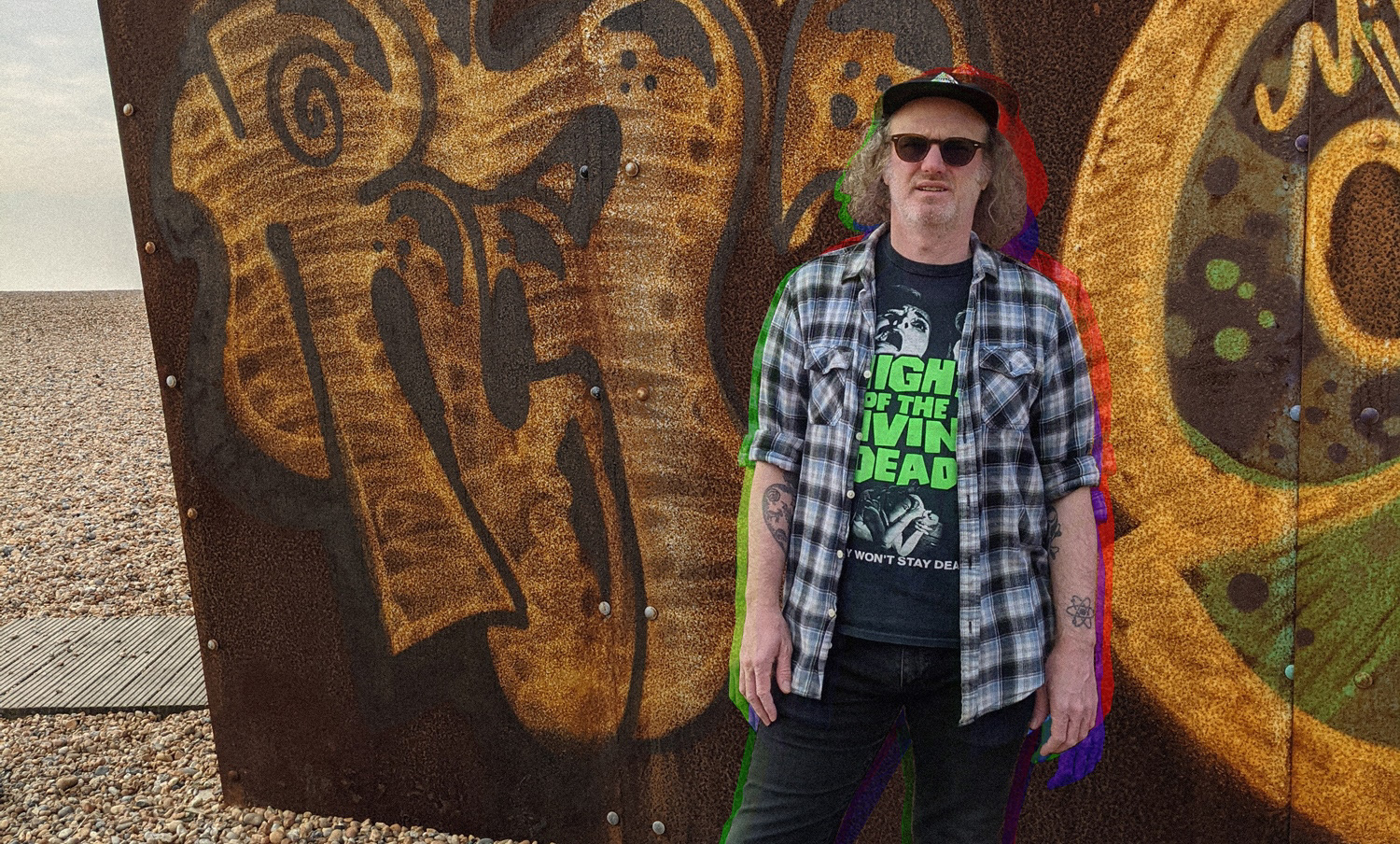 Psych-hymns, Soft-punk, Good-times.
Built in the crystalline shadows and existential backwaters of the psyche, Dez Dare constructs psych-hymns, soft-punk, that punches you in the brain while tenderly calling you to inaction.
No other time calls for expression more than times of suppression. Trapped, caught in reclusion under the germs' eye, Darren Smallman (BATTLE WORLDWIDE, Low Transit Industries, Thee Vinyl Creatures, The Sound Platform, Warped) built a Frankenstein's Monster within his house. Bolted together with old pedals, guitars and synths, a collection of tracks were produced that muse on existence, social normality and the illusion of reality.
Today, Dez Dare returns with a new single 'Conspiracy, O' Conspiracy', lifted from the forthcoming new album 'Hairline Ego Trip', due this June 4th via Ch!mp Records.
"The digital wildebeest has been growing unabated for decades and fuels conspiracy theories and faux realities that divide and burn the threads of our community," says Darren of the new single. "Dividing us with every byte transferred."
Bristling with homemade over-driven energy, wild guitar, and frustration at the world, 'Conspiracy, O' Conspiracy' throws you into the deep end of Dez Dare, and Darren Smallman's intoxicating world.
Darren grew up in Geelong, a port city located on Corio Bay and the Barwon River, in the state of Victoria, Australia where he became involved in the local punk and rock scene in 1990, playing in a band called Warped, sharing stages with the likes of 5678s, Fugazi, The Dirty Three and the Hard-ons, going on to play in multiple bands spewing out sludgy punk rock, heavy drone and noisy pop abundance. Darren was embedded in the scene, playing music, running labels (founding record label and touring company Low Transit Industries in 1999 working with bands such as The Essex Green, Lilys, Elf Power, Okkervil River, Of Montreal, Black Mountain, Trans Am and CW Stoneking,) before moving to the UK in 2010 where he has operated ever since. 
Speaking of the forthcoming 'Hairline Ego Trip' album, Darren says…
"This album is about the disconnect the human race has built between themselves and the natural world. How we are collapsing as a society through digital technology, capitalism, religion, nationalism. The failures of the human psych and the beauty in the world around us we fail to see."
Dez Dare helps to shine a light on that beauty. A wonderfully vibrant, colourful world of sound and vision. 
Transmission one ends here. Tune in soon for the next pulsation.
'Hairline Ego Trip' track listing: 
1.    Dumb Dumb Dumb
2.    Conspiracy, O' Conspiracy
3.    King + Queen Monstrosity
4.    My My Medulla
5.    Sandy's Gonna Try
6.    Break My Vice
7.    Crowned by Catastrophe
8.    Goodbye Autonomy
9.    Tractor Beam, Shitstorm
Pre-order 'Hairline Ego Trip'
HERE