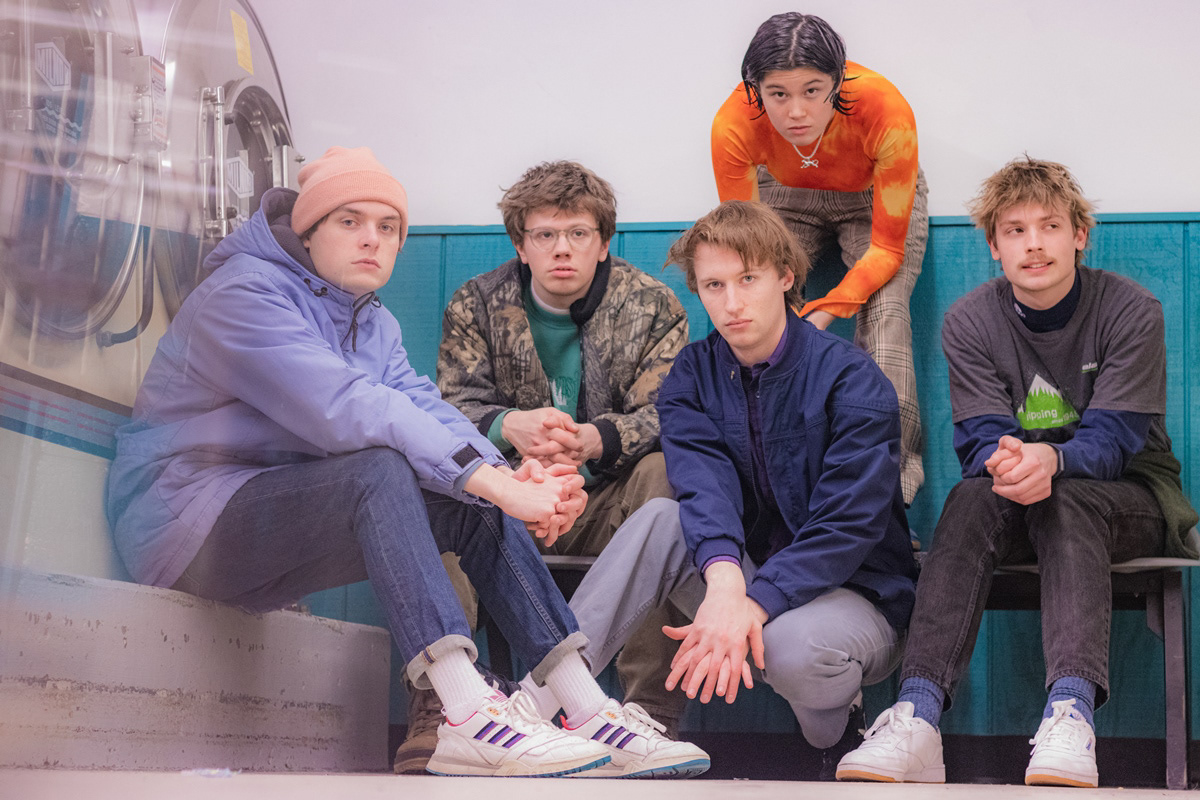 Wisconsin's Disq put out their debut album "Collector" in the early part of 2020 to international acclaim. Full of youthful exuberance and crafting whip-smart indie-rock, punk and power-pop, the Madison four-piece forged one of the strongest debut albums of recent memory and are currently working on the follow-up. After an A-listing at 6 Music and selling out key UK dates last year only to see their trip over cancelled due to the pandemic, the band return today with the brand new video (dir:
coool
) for album highlight, "Gentle".
A band blessed with multiple songwriters, "Gentle" is a track fronted by their lead guitarist Logan Severson who had the following to say on the themes behind the song:
"In early 2019 my health was rapidly declining. I was losing weight quickly, my head was in a constant fog, and I was feeling very weak. When I went to the doctor, they came up with a few haphazard ideas, but had no real answers for me. These complications culminated in a loss of consciousness, as well as momentarily losing my eyesight (and control over my body) in the crowd of a Mitski concert in Madison that spring.
In the weeks after returning from urgent care, I reflected more intently on my health and what could be causing me to feel so terribly. I realized how poorly I'd been dealing with the aspects of my life that had been troubling me, and how fragile my mental and emotional state had really become. Instead of facing my problems and insecurities I chose to ignore them, coping through unhealthy habits. I was creating a vicious cycle of numbing myself to the root of my distress, only to then be confused as to why I felt so bad. Through this experience, I realized the true gravity of the intersection between my mental, emotional, and physical well being. This song is about discovering that connection, and trying to uncover how I fell into these tendencies that cause me harm."
The band today also share a remix of of the track by draag me, the alter-ego of Zack Schwartz from SPIRIT OF THE BEEHIVE, their Saddle Creek labelmates.

The band had the following to say about the collaboration:
"When we approached the possibility of remixing "Gentle," it was immediately and unanimously decided that draag me would be our first choice (a rare feat for this band) - Zack's work with draag me and SPIRIT OF THE BEEHIVE is so fresh and singular, a massive inspiration to our band, so when Zack agreed we were ecstatic. When we received the remix and sat down to listen, we didn't know what to expect really, we thought that maybe it would either be somewhat conventional or absolutely insane, and we were happy to discover upon the first few seconds of listening that it was clearly the latter. Sitting there with stupid grins on our faces trying to decipher our music, we laughed our asses off, our minds were blown, it was incredible. We hope you'll be able to find just as much newfound joy in our song as we did through Zack's remix. Draw a bath, light a few candles, spark up a bowl, light a joint, screw on a fresh cart, torch your rig, refill your dry herb vape, and enjoy."