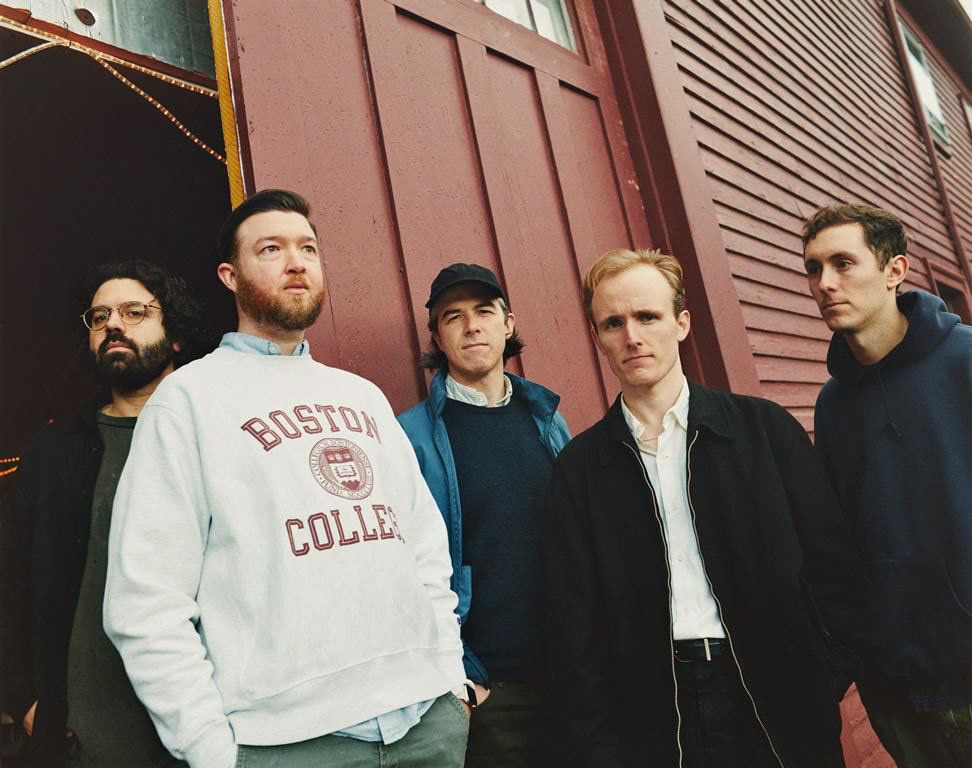 Fiddlehead
, the punk powerhouse featuring members of
Have Heart
,
Basement
and more, are releasing their second full-length,
Between The Richness
, on May 21st from Run For Cover Records. Today the band have shared one more early single, the anthemic "
Down University
".
Between The Richness
finds Fiddlehead expanding on their dynamic blend of hardcore energy and undeniable melody, and crafting their most immediate set of songs to date. Every song on the album bursts with Revolution Summer grit, massive hooks, and vocalist Pat Flynn's deeply thoughtful and open-hearted lyrics, and "
Down University
" is no different. The song follows earlier singles "
Heart To Heart
" and "
Million Times
" (which earned attention from the likes of Stereogum, Kerrang!, Rock Sound, The FADER, NPR, Consequence of Sound, Brooklyn Vegan, Paste and more) and captures Fiddlehead's knack for crafting sing-along-ready moments without losing an ounce of intensity.
Flynn discussed the new song, saying:
"This song is about how I got trapped in this Darwinian mentality where everything was approached with extreme doubt and felt like a total failure. For some reason, despite growing up in an environment that promoted the Deweyan idea of education as liberation, I came to view it as a pure means to status in some weird grief-stricken attempt to live up to some made up idea of standards I believed would help me 'prove myself' to my father in the wake of his passing. 
Luckily, my good senses came to me and in some way I found a greater sense of connection with him in remembering his true take on human achievement and how it had nothing to do with materialistic status markers. The music spoke this whole lyrical idea for a song to me in a sort of mocking manner. A fairly upbeat, cheer-leading chant for one of the more unnecessarily down and out times in my life."

Between The Richness
follows 2018's
Springtime & Blind
, a gut-punch of an album that followed Flynn coming to grips with the passing of his father. Now
Between The Richness
explores the ever-presence of grief but with Flynn writing from a drastically different place. "These massive things happened in my life between the first record and this record," he says. "It just so happened that I ended up getting married, I had a child, and it was around the 10-year anniversary of my father's passing." Flynn brings these experiences to
Between The Richness
, diving headfirst into the paradoxes of life, death, joy, and pain—all with stunning humanity and honesty. "The name of the record is called
Between The Richness
because it's important to me to explore the weird feeling of happiness and sadness, because that's just where I am right now," says Flynn. "My son's name is Richard and my father's name is Richard, so it's literally between the two of them, but it's the richness of life and the richness of death."
1. Grief Motif
2. The Years
3. Million Times
4. Eternal You
5. Loverman
6. Down University
7. Get My Mind Right
8. Life Notice
9. Joyboy
10. Heart To Heart

Between The Richness is out on May 21st via Run For Cover: 
Pre-Order
.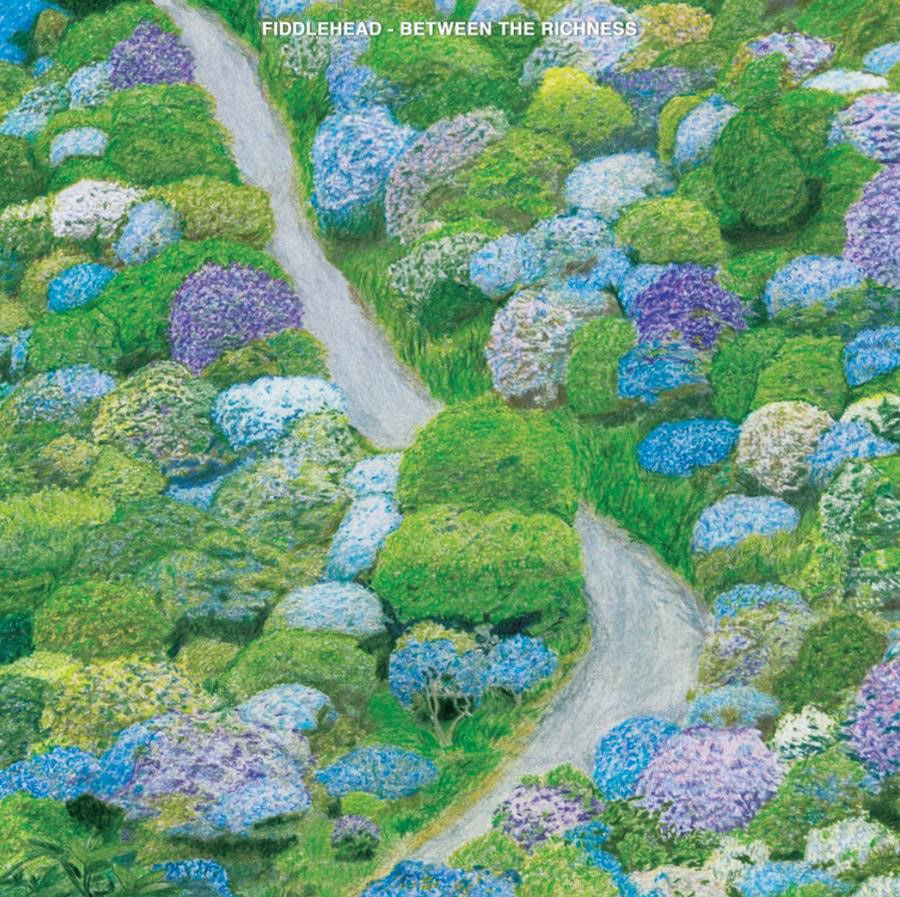 Fiddlehead wasn't supposed to make a second record. But, if we're being totally honest, they weren't supposed to make their first record either. Formed in what singer Pat Flynn describes as "a deeply, deeply, laughably depressing part of my life," Fiddlehead was born with modest intentions. Flynn and his then-roommate, guitarist Alex Dow, decided to work on some songs, and with Basement having just broken up, guitarist Alex Henery entered the fold. Drummer Shawn Costa and bassist Adam Gonsalves—who has since been replaced by Casey Nealon—linked up with them and, all together, they wrote what would become the Out Of The Bloom EP. Those five songs established what Fiddlehead would be, a band that merged elements of post-hardcore, post-punk, and classic '80s emo into something that felt distinctly theirs.
After the release of their debut album Springtime & Blind, the band did some weekend-long tours, and saw that their music was hitting people harder than they ever expected. "Kids were singing along in a very desperate way and we realized it wasn't just resonating with us, it was resonating with these people in a really meaningful way," says Flynn. Springtime & Blind was a hit for many reasons, but chief among them was Flynn's open-hearted exploration of his father's passing, which saw him use his lyrics as a means of relating to and understanding his mother's grief. So when it came time for Fiddlehead to work on a second record, people weren't just curious what the songs would sound like, they were curious what they'd even be about.
Opening with "Grief Motif," Between The Richness effectively picks up where Springtime & Blind left off, as Flynn dives headfirst into that same subject matter. But astute listeners will notice a major difference this time: Flynn is singing about himself. "These massive things happened in my life between the first record and this record. It just so happened that I ended up getting married, I had a child, and it was around the 10-year anniversary of my father's passing. So what if I want to write another record about how I feel about the loss of my father? Will people be like, 'Pick another topic, dude.' So, the opening track is called 'Grief Motif' because it's the idea that this is an eternal struggle that will never go away. Take it or leave it, but it will be part of this dude as long as he's got a pen in the hand."
Between The Richness explodes with an energy that usurps that of Springtime & Blind. The guitar riffs of Dow and Henery are their most anthemic and combustive yet, making songs like "The Years," "Get My Mind Right," and "Down University" not just serve as the backbone for Flynn's personal ruminations, but empathetic, emotional musical stabs that hit the listener just as hard. Meanwhile, Costa and Nealon give the songs a propulsive heft, allowing a track like "Million Times" to dart into unexpected territories without ever feeling alien.
But at the center if it all is Flynn. He's a different person than he was on Springtime & Blind, because he's now a father himself. And that experience colors the journey he goes on throughout the album. "We started writing this record two weeks after my son was born, and I think it's a really great way for him when he's older—and when I'm gone—to say, 'My father wrote this in the first year of my life. What does that mean?' Lyrically, I tried to show that there were a lot of profound moments in my life, and in the last song, I tried to write what was explicitly a letter to him."
That last song, "Heart To Heart," is emotionally wrenching, as Flynn explains to his son what it means to experience profound joy and life-altering loss all at once. "The name of the record is called Between The Richness because it's important to me to explore the weird feeling of happiness and sadness, because that's just where I am right now," says Flynn. "My son's name is Richard and my father's name is Richard, so it's literally between the two of them, but it's the richness of life and the richness of death. It was important for me to capture that perfectly paradoxical feeling; That was the problem I was trying to solve on this record. And I don't think I solved it, but I definitely feel less stressed out and befuddled by that weird clashing of happiness and sadness."