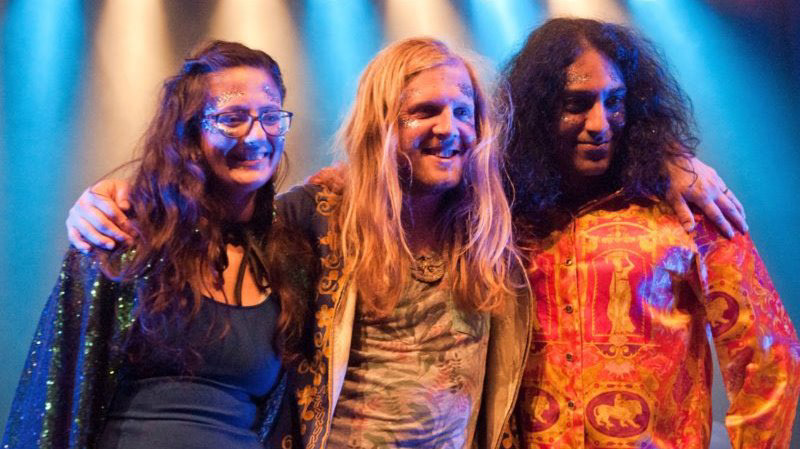 GU-RU

are ecstatic to reveal their third EP (and fourth full release) '

Zenith's Privilege

', and this time everything is thrown into the pot: Psychedelic Prog, Acid House, Euphoric Dance, Pop, Space Disco: The Cosmic Eclectic.
'

Zenith's Privilege

' is about the peak of an experience, and the subsequent fall. It is the privilege of being at the top of the mountain, and yet also the impending tragedy of descent. The diminuendo of life.
"Zenith sublime, I doth my cap to thee the privilege was mine, but our number is up, we are descending to the liars, the sinners, the cheaters and deliverers of evil in the bowels of the sun." 'Zenith' - GU-RU.
At the heart of '

Zenith's Privilege

' is its DIY approach. Produced and mixed by frontman Lee Spreadbury, this release is fundamentally GU-RU; the sound they have been searching for, and finally achieving. Family plays an important part of this EP - the delightfully psychedelic artwork, a collage of paintings, was designed by Lee's two son's Eugene and Vincent, with Vincent also contributing guest vocals on '

Disco Biscuit

'.
What's also noticeable is the arrangement of Edgar Winter's Prog Classic '

Frankenstein

'. This track has evolved into a crowd favourite since it was debuted at 2018's HRH Prog Festival and the band are pleased beyond measure to be able to include it in this release. Edgar - hope you dig it!!
The release of the single 'Teach Me' and its subsequent remix has being championed by BBC Radio 6 music (Tom Robinson) and BBC Radio Leicester (Uncle Frank, Andy Pierce), and was hailed:
"An explosion of cosmic goodness." Tom Robinson - BBC Radio 6music
'Teach Me' perfectly captures the exuberance of a packed nightclub teased and cajoled into maximum euphoria and it's the type of track that a DJ knows will cause sequined pandemonium on the dancefloor" Paul F. Cook - Joyzine
"80s house beats and sequencers, 90s piano pulses , 70s string textures and Moog lines and an extra spicing of rainforest flute lead to an air-punching climax." Moray Stuart - Plunger Music
"A pulsing cocktail of throbs and bleeps bounces into view and it's hard not to to swing your bell bottoms." Mike

Ainscough - At The Barrier
EP Personnel:


Lee Spreadbury - Vocals, Keys (Hammond M102 & Leslie 145, Moog Sub 37, Bentley Upright Piano, Behringer MS-101, Korg SV-1, Mellotron, Roland Juno-6), Synth Bass.
Naomi Perera - Flute, Vocals.
Malcolm D'Sa - Drums.
Vincent Vetyver Spreadbury - Vocals on 'Disco Biscuit'
Artwork by Eugene Zappa Spreadbury and Vincent Vetyver Spreadbury
Mixed and Produced by Lee Spreadbury
Mastered by Mark Peacock.
Lyrics by Lee Spreadbury. Music by GU-RU apart from Frankenstein which was written by Edgar Winter and arranged by GU-RU.
'Zenith's Privilege' will be released on 30.4.21, and available on limited CD/download via the band's Bandcamp page www.gu-ru.bandcamp.com and on all major streaming platforms.
Tracklisting:


1. Zenith
2. Teach Me
3. Disco Biscuit
4. Frankenstein (Winter)