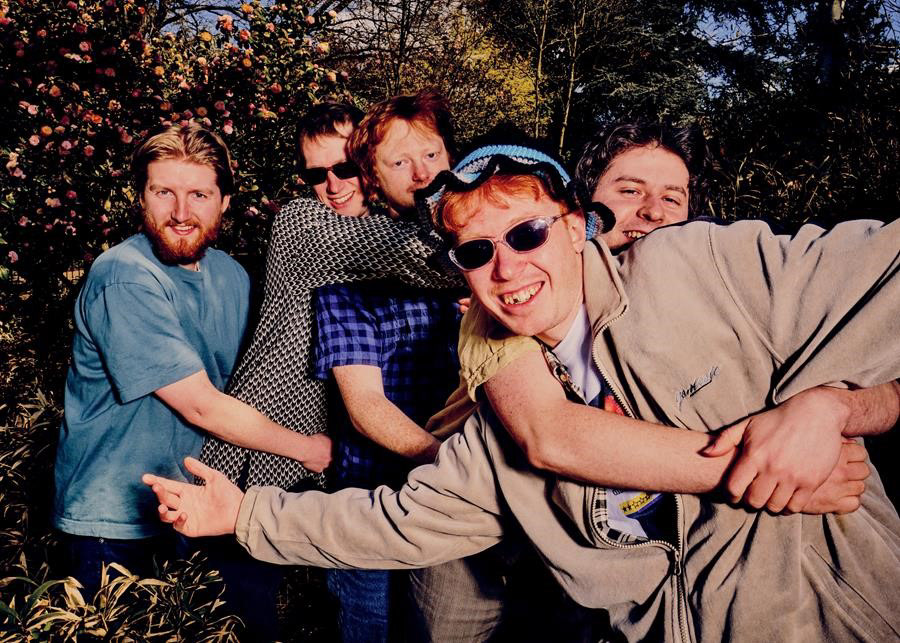 Today, South London's unclassifiable 4-piece curios,
Horsey
, return with the announcement of their highly anticipated debut LP "
Debonair
" and the release of their new single "
Seahorse
", which features the band's long-time friend and critically acclaimed songwriter Archy Marshall (King Krule) on vocals throughout.
"Seahorse" marks the first piece of new original material from King Krule since his highly praised 2020 album "
Man Alive
", which featured Horsey's own George Bass on drums, and saw Marshall earn plaudits across a vast array of media.
The dark and brooding single carries that classic King Krule cadence. It sees Marshall combine his inimitable blend of anguished observation and nuanced social and metropolitan commentary. Weaving, and flexing twisted lyrics that speak of dark city tales and racist police through dramatic and surreal melancholy instrumentation.
"
Seahorse
" is a distinctly different offering from Horsey. Harking back to collaborations between Marshall and band's Jacob Read (Jerkcurb), the track has an early King Krule inflection but simultaneously is distinctly Horsey. The track sees the band pare down their unique blend of oddball pop and absurdist theatricality, ebbing and flowing between hazy, lo-fi noir jazz tinted keys, restrained guitars and slowly escalating drums and bass.
As with each of their singles to-date, "
Seahorse
" is a testament to the band's ability to thrust themselves into new musical territory whilst continuing to beguile listeners with each release.
Horsey's new album "
Debonair
" is due out July 2021 on London label untitled recs (
Jerskin Fendrix, Famous, Brad Stank, TAAHLIAH
), who with the release of this single, also become the fourth ever label to release official King Krule material, putting them in good company amongst Warp, XL Recordings & True Panther Sounds.
Made up of Jacob Read, Theo Mccabe, Jack Marshall and George Bass, Horsey have built a cult live following having toured with the likes of King Krule, Goat Girl and Hinds, as well as playing sold-out shows across their hometown venues with the likes of YOWL, Hotel Lux, Norman, Ugly, Lazarus Kane and more. The new single follows their hyperactive album opener "
Sippy Cup
", which was released as a standalone single earlier this year and saw the band garner early support at press and radio, as well as attracting attention from tastemakers such as filmmaker and director Edgar Wright (Scott Pilgrim vs The World, Attack The Block, Baby Driver), who described the track as "2 mins of blissful insanity".
A fitting introduction to the new album, Horsey refused to be pigeonholed at every turn. "
Debonair
" is propelled forwards from the opener with an incomparable wide-eyed intensity that blurs the lines between dark, glam inflected noise-rock, surreal jazz breakouts, wonky apocalyptic pop, emphatic rock opera-esque histrionics and melancholic lo-fi without abating.
The band state that the juxtaposition between maturity and immaturity is central to the album's themes, and this contrast is not only found in the album's dynamic instrumentation but is also prominent in Horsey's intoxicating and coltish lyrical prose, which is all at once deeply personal, tumultuous and utterly abstract. Though often delivered with overtones of sardonic humour the subject matter carries a sincere message, one that channels the spirit of when the band first met in nursery whilst tackling the tropes of modern living. The result is a gripping and exuberant reminder that there is great value in applying some childlike lateral mentality to the all too serious events of adult life.

Horsey "

Debonair

" track listing: 
1. Sippy Cup
2. Arms & Legs
3. Underground
4. Everyone's Tongue
5. Wharf
6. Lagoon
7. Clown
8. 1070
9. Leaving Song
10. Seahorse (ft. King Krule)

"
Debonair
" is out Summer 2021 via untitled recs