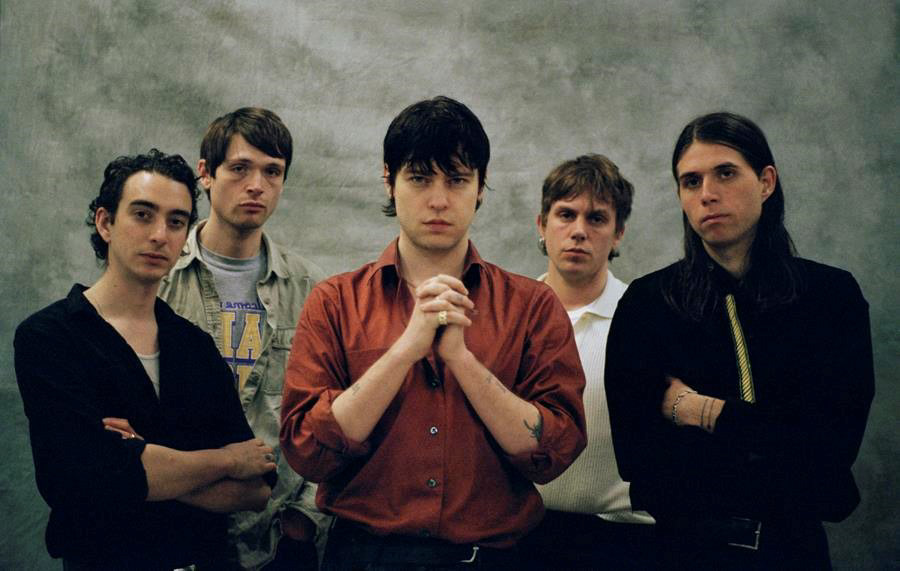 Last month, Iceage released Seek Shelter via Mexican Summer, continuing their steady stream of highly acclaimed albums. Today, they present a video for one of its singles, "High & Hurt," which "stages a battle between the dirty and divine, answering gritty verses with a cloud-parting chorus" (Pitchfork).
The accompanying video, directed by Emma Acs, features the band and actor Zlatko Burić, who first appeared in their "
Vendetta
" video. It reflects Elias Bender Rønnenfelt's often expressionist and divine-derived imagery, as the band performs while wearing angel wings.
As described by Rolling Stone in their "Song You Need to Know," "'High and Hurt' is not about waiting out life's miseries for some later reward, but working to break those cycles of cruelty here, now, even if they try to kick you each time you're up. It's a far more noble kind of transcendence."

Iceage's upcoming Seek Shelter concert stream has been moved to June 12th. They will tour North America and Europe in early 2022. Tickets for all dates are on sale now. 

Sat. Feb. 12 -  San Francisco, CA @ The Chapel 
Sun. Feb. 13 - Felton,CA @ Felton Music Hall 
Wed. Feb. 16 - Los Angeles, CA @ Zebulon
Thu. Feb. 17 - Los Angeles, CA @ Zebulon
Sat. Feb. 19 - Pioneertown, CA @ Pappy and Harriets
Sun. Feb. 20 - San Diego, CA @ Casbah
Mon. Feb. 21 - Tucson, AZ @ Club Congress
Thu. Feb. 24 - Houston, TX @ Secret Group
Fri. Feb. 25 - New Orleans, LA @ Gasa Gasa
Sat. Feb. 26 - Jacksonville, FL @ Intuition Ale Works
Mon. Feb. 28 - Orlando, L @ The Social
Tue. March 1 - Atlanta, GA @ Terminal West 
Wed. March 2 - Nashville, TN @ Basement East 
Thu. March 3 - Asheville, NC @ The Grey Eagle 
Fri. March 4 - Durham, NC @ Motorco Music Hall
Sat. March 5 - Baltimore, MD @ Ottobar
Mon. March 7 - Cambridge, MA @ The Sinclair
Tue. March 8 - Providence, RI @ Columbus Theatre
Wed. March 9 - New York, NY @ Bowery Ballroom
Thu. March 10 - New York, NY @ Bowery Ballroom
Fri. March 11 - Holyoke, MA @ Gateway City Arts
Sat. March 12 - Kingston, NY @ Tubby's 
Wed. March 23 - Leeds, UK @ Belgrave Music Hall
Thu. March 24 - Newcastle, UK @ Cluny
Fri. March 25 - Glasgow, UK @ Stereo
Sat. March 26 - Nottingham, UK @ The Bodega
Sun. March 27 - Birmingham, UK @ The Hare and Hounds
Tue. March 29 - Bristol, UK @ Thekla
Wed. March 30 - Brighton, UK @ Patterns
Thu. March 31 - London, UK @ Electric Ballroom