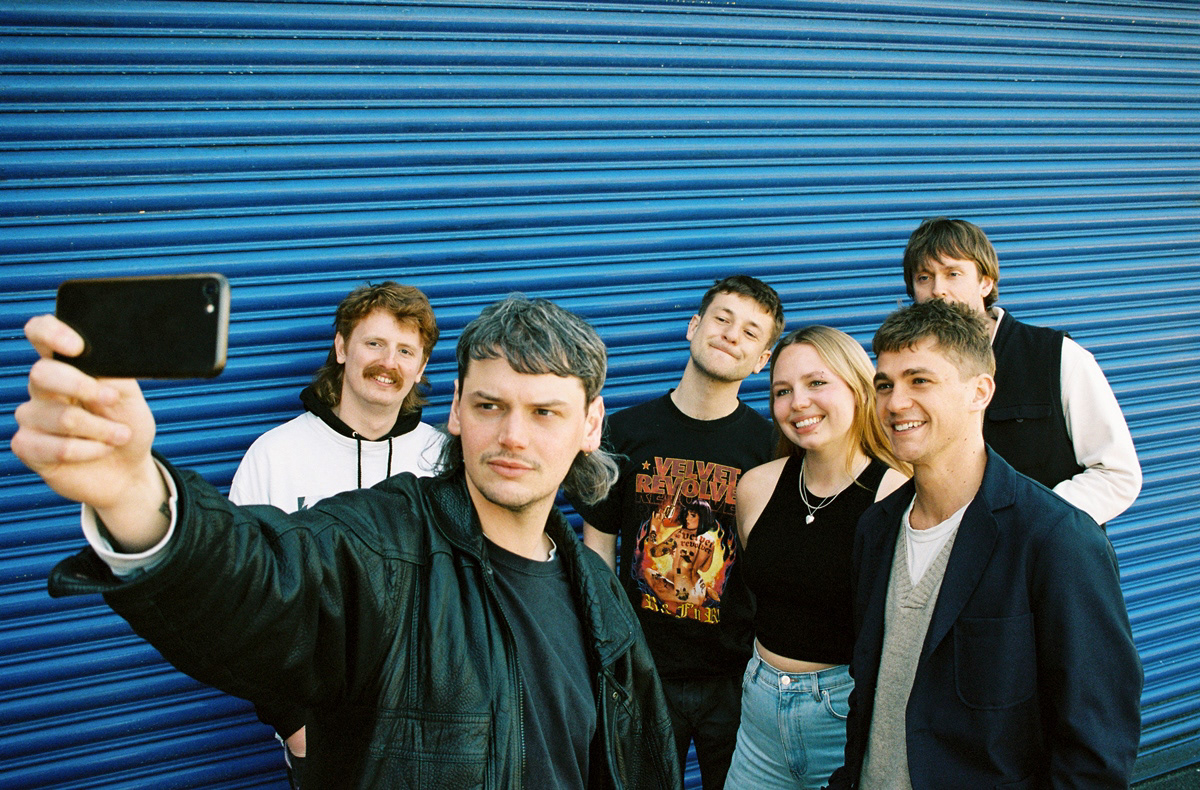 Lazarus Kane return today with the whip smart post-pop of "Milk At My Door", a colourful collision of new-wave eccentricity paired to an irresistible hook about a "next episode". An all too appropriate line to get under your skin, as it marks exactly that, a thrilling next episode for the enigmatic six-piece band from Bristol and a first taster of their debut EP, coming late September on So Young's brand new label imprint (Folly Group, Lime Garden).

It's often hard with Lazarus Kane to know where the line between sincerity and irony truly lies. They've been called everything from high-concept performance art to disco provocateurs, but it is perhaps this sense of uneasy mystery that sets them apart. In an industry often plagued by a dour self-seriousness surrounding art and the creative process, Lazarus Kane emerged as a breath of fresh air in 2019 with their Speedy Wunderground single 'Narcissus', a strutting, rhythmic exploration into the superficiality of modern life. They followed this up with the inescapable strut of 'Night Walking' in 2020, further blurring the expectations of what a band could, or should, do.
So where now in 2021, with the world on pause? For front man Ben Jakes, FKA as the eponymous Lazarus Kane, the answer was simple. Rip everything up and start again.
"It felt disingenuous to continue the character with the current state of the world" he says. "Instead, I wanted to really hold a mirror to the often darkly comedic and surreal ways in which we deal with difficult situations, especially within our often extremely comfortable, materially focused and self-absorbed lives".
The result is "Psychobabble", a wonderfully jarring collection of songs that continue to defy any kind of genre. Taking cues from early Brian Eno, no wave, 80's hardcore and experimental electronic music, such as Biosphere and Cluster, the songs weave and morph in front of the listener with little to no indication of where they might go next, all whilst maintaining Jakes' surreal sense of humour.
'Milk At My Door' takes aim at the cult of self-improvement and conspicuous consumption, questioning where our priorities truly lie as the world is falling apart around us whilst simultaneously examining our obsession with nostalgic imagery when we're all so completely dominated by technology. Take a sip.

Alongside the new single and EP announcement, Lazarus Kane have also announced their first-ever headline tour for October 2021, which will follow on from their tour with PVA and Folly Group in July and festival appearances including Wide Awake Festival and End Of The Road. Full dates are as follows:
01.07 London, Studio 9294 with PVA 
02.07 Southampton, The 1865 with PVA 
03.07 Hebden Bridge, Trades Club with PVA 
07.07 Bedford, Bedford Esquires with PVA 
08.07 Margate, Elsewhere with PVA 
14.07 London, Heaven with Warmduscher 
03.09 London, Wide Awake 
04.09 Dorset, End of the Road 
18.09 Leicester, Wide Eyed
20.10 Brighton, Latest Music Bar
22.10 Birkenhead, Future Yard
23.10 York, Slow Education
24.10 Manchester, The White Hotel
25.10 Newcastle, The Tyne Bar - Free Entry
26.10 Cambridge, Portland Arms
27.10 London, Bussey Building
28.10 Bristol, Strange Brew
30.10 Amsterdam, London Calling
"Milk At My Door" marks a tantalising new chapter in the band's discography, but perhaps even more exciting is not knowing what might be around the corner. As a group all in their mid 20's, the internet is a playground of untapped influences, old and new, waiting to be deconstructed with the group's signature wit and unbridled creativity.
For anyone asking, Lazarus Kane is alive and well.
Psychobabble
Out September 10th via So Young Records 
Pre-order
HERE
1. Milk At My Door
2. Whole Foods
3. Williston, ND
4. mps