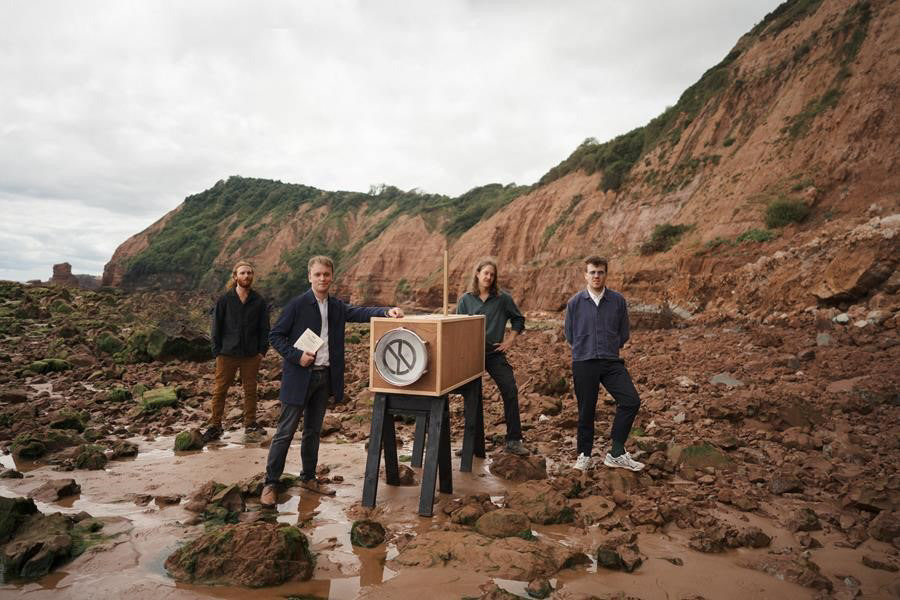 Today, Bristol group LICE reveal their new video for "Persuader" - taken from their critically-acclaimed debut album WASTELAND: What Ails Our People Is Clear – released 8th January 2021 via their own label Settled Law Records. This is accompanied by new B-side "Mediator": an avant-garde re-working of "Persuader" drawing influence from the likes of Wim Mertens' Struggle For Pleasure and Xiu Xiu.
WASTELAND: What Ails Our People Is Clear is a concept album advancing a new model for satirical music, in which implicit bias/ social iniquity is interrogated through character-driven narratives. A wild Burroughsian adventure story populated with time-travellers, shape-shifters and ectoplasmic spectres, this album was also published as a standalone piece of short fiction. Featuring an 'Intonarumori' (noise instrument) hand-built by the band, based on the 100 year-old designs of Italian Futurist Luigi Russolo, it also features guest appearances from Katy J Pearson and Goat Girl's Clottie Cream & Holly Hole. Issued as a Dinked Edition (entering the UK Official Record Stores Chart at No.11), WASTELAND emerged to enormous acclaim from the likes of The Quietus, CRACK, Uncut, Classic Rock, Dork, The Financial Times, NARC, CLASH and more, as well as radio support from 6Music, Radio 1, Radio X and KEXP.
WASTELAND takes us to a strange liminal space known as The Wasteland, ephemerally populated with half-conscious people from the real world. A vigilante known as The Conveyor exposes a plot to engineer humanity's self-destruction, helmed by the shadowy R.D.C. and its flamboyant, misanthropic leader Dr Coehn. As a cat-and-mouse chase unfolds, The Wasteland's populace experience strange incidents and transformations – the prose text itself warping into cut-ups, soliloquies and even plays.
In "Persuader", The Conveyor reveals that he was once friends with Dr Coehn, and was in fact responsible for setting this once-idealistic figure on his current path of destruction. The Conveyor then unsuccessfully attempts to change Dr Coehn's mind again, employing the analogy of a deadly virus: lines conceived and recorded mere months before the coronavirus pandemic. The exchange in 'Persuader' explores our power to influence each other's outlooks, and argues that art satirising human iniquity must come from a place of hopefulness for our betterment (rather than empty misanthropy). In this, The Conveyor represents WASTELAND in conversation with LICE's more Swiftian earlier EPs It All Worked Out Great 1+2. The counting sequence at the end, inspired by Philip Glass' opera 'Einstein On The Beach', represents the stable passage of time. This ends a motif in the album's first half, in which jumbled numerical sequences (heard in the right headphone) reflect disruptions to space-time in The Wasteland.
The video was created by animator Tasha Lizak, who says: "The video is framed around the concept of a(n) research/experiment centred around the decoding and destruction of mankind. Constructing and deconstructing a biomechanics 'man', the video follows a process of analysis and decoding. The central icon, a 'cypher', constructed around the idea of 4 constructs of humanity: (i)BELONGING, (ii)PURPOSE, (iii)STORYTELLING, (iv)TRANSCENDENCE, with a core figure, representing the 'idea' of a perfect human, a perfect sample of data. The video tracks the development of the 'research', navigating through constructed 'labs' and test areas, whilst images glaze the screen. The abundance of imagery, which creates the skeleton of the 'cypher' and 'research', repeat and twist, verging on spam, allude to a certain 'soft zone' state that is an inherent weakness of 'mankind'. Loops and repetitions of image cycles feel familiar with a compulsive behaviour of time spent engorging on social media, streaming sites, pornography etc etc, eliciting a sense of movement whilst caught in stagnation. The video plays of this idea of stasis, through the idea of cyclical repletion and the illusion of progress, perhaps the core error encoded in the contemporary binary."

"Persuader" / "Mediator" is issued physically via Settled Law on limited wooden off-cuts, taken from the Intonarumori that the band built for use on the album, and is exclusively available on their Bandcamp:
https://licebanduk.bandcamp.com
LICE will play the following dates this year:
18/09/21 - Leicester / Wide Eyed Festival
24/09/21 - Angers / Levitation Festival
09/10/21 - Reading / Are You Listening Festival
16/10/21 - Norfolk / Wild Paths Festival
19/11/21 - Cambridge / Blue Moon
20/11/21 - Margate / Elsewhere
21/11/21 - Brighton / Hope & Ruin
22/11/21 - Birmingham / Sunflower Lounge
23/11/21 - Manchester / YES Basement
24/11/21 - Glasgow / Flying Duck
25/11/21 - York / Fulford Arms
26/11/21 - London / Shacklewell Arms
27/11/21 - Bristol / The Island