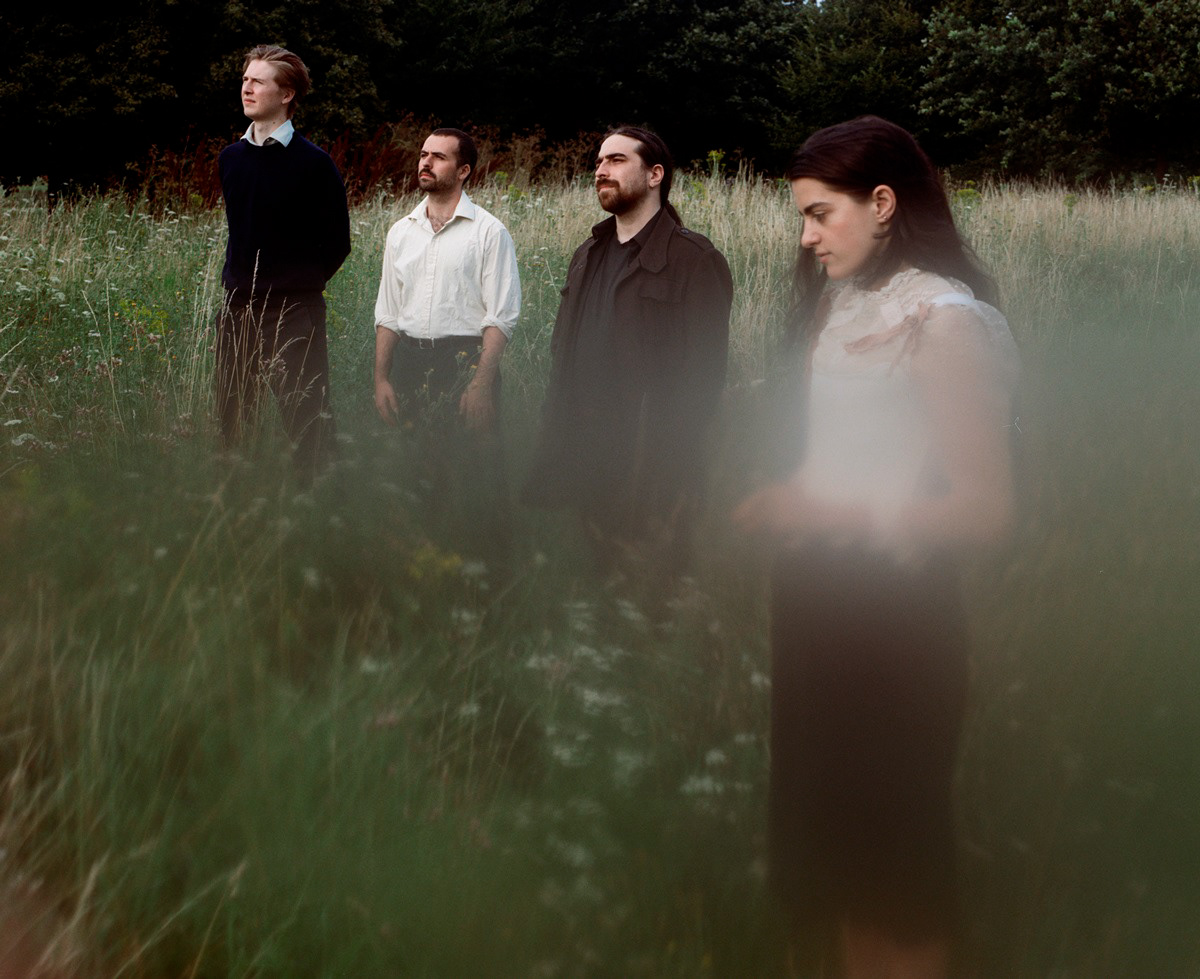 Modern Woman today follow the release of June's critically-acclaimed debut single, "Offerings", with its follow-up "Juniper", paired to an animated visualiser from the band's own Sophie Harris. The song was premiered by Ezra Furman, sitting in for Marc Riley on his cult BBC 6 Music show.
The band also share details of their debut EP "Dogs Fighting In My Dream" coming September 17th via End of the Road Records. The four-track EP will mark the first release for the recently launched label arm of the British festival.

The EP was recorded and mixed by Shuta Shinoda (Anna Meredith, Jehnny Beth, Hot Chip) and mastered by Jason Mitchell (PJ Harvey, Aldous Harding, Dry Cleaning).
London's Modern Woman first began life as the songwriting project of Sophie Harris, a literature graduate who started playing the songs solo at spoken word nights she ran; "I had a firm idea of the direction I wanted the project to go in, and I knew that couldn't be achieved without a full band." Harris says speaking of the band's beginnings. "It was important to me to keep the tenderness and lyricism of folk music but blend this with heavier and weirder experimental elements."
An introduction through a mutual friend led her to meeting David Denyer, an Anglo-German-Armenian composer by trade whose interests include Merzbow records and building his own instruments and pedals. The two started playing together with Denyer playing an array of homemade violins, synths, effects and percussion - including a battered wooden table with a metal colander nailed into it and jagged remnants of cymbals that take a pummelling throughout the band's live show. Explaining the set up Denyer says; "We always talked about being influenced a lot by Tom Waits and there are lots of stories of him smashing up doors and using it as percussion so we gave it a shot. The colander was Sophie's idea. I love pasta though so it sits really well with me."
After a period of comings and goings of different line ups the band was completed after meeting Madrid-born bassist plus occasional saxophonist Juan Brint Gutiérrez through an ex-bandmate of his, who in turn introduced drummer Adam Blackhurst. "I was very drawn to Sophie's songwriting and vision that balanced tenderness and aggression in a similar way to our shared influences whilst remaining original and fresh. As a band this has been an amazing space to explore out-there ideas and re-contextualise my background in improvisational jazz." says Brint Gutierrez. "Meeting Adam and Juan was wonderful as it completed the sound. Adam was the last to join and after many drummers, his approach to playing perfectly complemented our love of experimentalism and noise" Says Harris.
Playing their first show in the later half of 2019 the band quickly built a word of mouth following around their incendiary live performances playing alongside the likes of Dan Carey's Scottibrains, Tiña and Automatic, before lockdown cruelly stopped them in their tracks. 
After being invited to play End of the Road's streamed digital edition in 2020 it helped introduce the band to a wider audience outside of the smattering of shows they'd played in pre-pandemic times and earned them fans in peers like Squid and Black Midi.
The band's music, still based around Harris' songwriting, explores a diverse range of sounds drawing from their melting pot of influences from post-punk and 60s folk music to free-jazz and noise. Lyrical nods to myth and folklore sit amongst songs that range from poetic monologues, stripped back folk songs to the ferociously experimental. 
"I am very interested in how nature is portrayed in art," says Harris, " The idea of generations of lived time running as undercurrents throughout the natural landscape, and how this is reflected in us all individually in the rawest of human emotion. I've always been drawn to myths and folktales as stories that best express this. Lyrically, then, I like to explore this feeling through my own stories, and sometimes going as far as to contemporise myths or well-worn tales into a contemporary setting."
Talking about "Juniper" Harris says; "I wanted to write about the Juniper Tree tale but try to modernise it. I was always drawn to this tale and its depiction of the power of maternal longing, metamorphosis and sorrow.
End of the Road founder Simon Taffe says of the release "As soon as we accidentally stumbled upon a Modern Woman live show, we were obsessed. They were so fully formed. We were stunned to discover they hadn't even recorded a song."
"Whilst the pandemic has been devastating for the live music industry as a whole, we also really felt for new bands and artists just starting out in their career. Artists who might get a bump from playing festivals like ours and the many other great events around the world, exposing them to a whole new audience and helping them build long lasting fan bases. Starting the label as a way to showcase the new bands we love to our loyal following of music fans, and we're ecstatic to be working with Modern Woman on their first release."
Ahead of the EP, Modern Woman will hit the road across the UK for a series of live dates, including a newly-announced headline show at London's Moth Club:
20/8 - Green Man Festival
25/8 - London - So Young Festival @ Old Blue Last $
3/9 - End of the Road Festival
4/9 - Manchester - Manchester Psych Fest !
5/9 - Glasgow - Broadcast &
11/9 - Brighton - Prince Albert *
12/9 - Southampton - Heartbreakers *
13/9 - Bristol - Rough Trade *
14/9 - Birmingham - Hare & Hounds *
18/9 - Portsmouth - Psyched Fest
15/10 - Margate - New In Town Fest 
16/10 - Leeds - Live At Leeds
9/11 - London - Moth Club
13/11 - Glasgow - Stag & Dagger
$ w/ The Goa Express & The Umlauts
! w/ Stereolab, Girl Band, Dry Cleaning & More
& w/ TVAM
* w/ Tiña