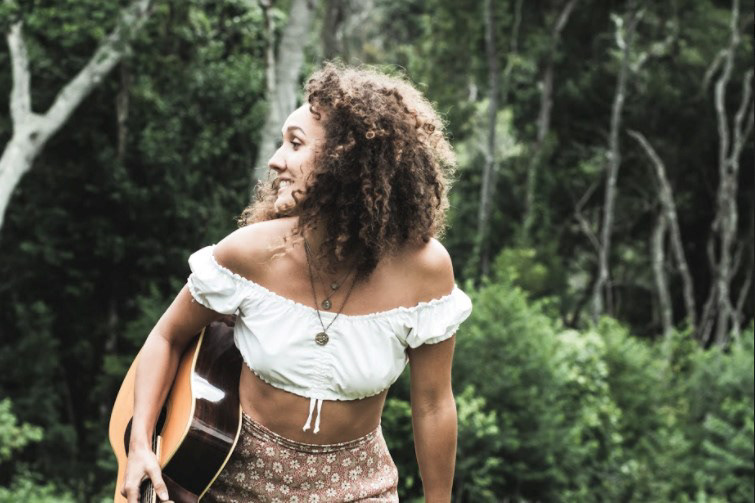 Byron based singer songwriter Nidala Barker reveals her latest upbeat heartwarmer, 'Said Too Much'. The third single birthed under her creative moniker, NIDALA, and the second to be lifted from her debut EP Colours of My People, 'Said Too Much' is a departure from the artist's notable stripped back ballads, and presents an exciting shift towards the danceable expanse of the indie folk genre. NIDALA is thrilled to also announce that her debut, carbon neutral EP will soon be with us through LUSTRE on Thursday 2 September with pre-orders now available via Bandcamp.
NIDALA's music navigates modern juxtapositions of identity, self-expression and human connection through an intersectional lens as a proud French-Aboriginal Djugun woman, artist and activist. 'Said Too Much' is the blood-pulsing encapsulation of this. An energetic call to arms urging both herself and her listeners to release any conflicting societal expectations thrown our way and to stay true to our perfectly imperfect selves, especially when it comes to love. Out today, 'Said Too Much' leaves the lethargic introspection of previous single 'One of Those Days' for activating rhythms and deeply cathartic melodies that cement Nidala Barker as a leading voice of the next generation of Australia's great songwriters.

"'Said Too Much' is about dating and how it collides my worlds together! My ancestral heritage sees partnership as a central part in human-nature relationships, and my tech-ridden modern existence plays it out through online dating in a culture that fears deep connection. It's about being confused, and being able to dance it off. I chose this theme because I wanted it to feel relatable and deeply human, and I wanted to paint my Indigeneity in the colours of softness it so rarely gets to wear in white Australia." – NIDALA
NIDALA's forthcoming EP Colours of My People is a 100% carbon neutral project that celebrates reconciliation in all of its forms; reconciliation of ourselves, of our emotions, of our bodies and of our natural environments and communities. The EP is driven by Barker's relentless hope in humanity and her staunch activism as a protector and carer of Country. NIDALA recently spoke and performed as part of a special NAIDOC week Instagram takeover of sustainable clothing brand, Spell to promote the EP to their one million+ followers. Coinciding with this year's 'Heal Country' NAIDOC theme, the vision of NIDALA's ambitious release could not be more necessary nor timely. By pre-ordering Colours of My People, you will be directly contributing to help heal Country with 20% of all the EP's proceeds dedicated to planting trees and a further 20% towards funding Indigenous run initiatives such as mental health services and creative mentoring. So be sure to head to NIDALA's bandcamp page to jump in line for a copy.
'Said Too Much' is out now via
LUSTRE
Colours Of My People EP is out Thursday 2 September via LUSTRE
Pre-orders available via NIDALA's
Bandcamp
Colours of My People Tracklisting
1. One Of Those Days
2. Said Too Much
3. Colours Of My People
4. Body Of Mine
'Said Too Much' Credits
Studio
Producer: Emily Toner
Mixing: Paul Pilsnenks
Mastering: Paul Blakey
Performers
Lead guitarist: Matthew Collins,
Drums: Charity Turner
Vocalist & guitarist: Nidala Barker,
Bass: Sam Besmehn-Burn