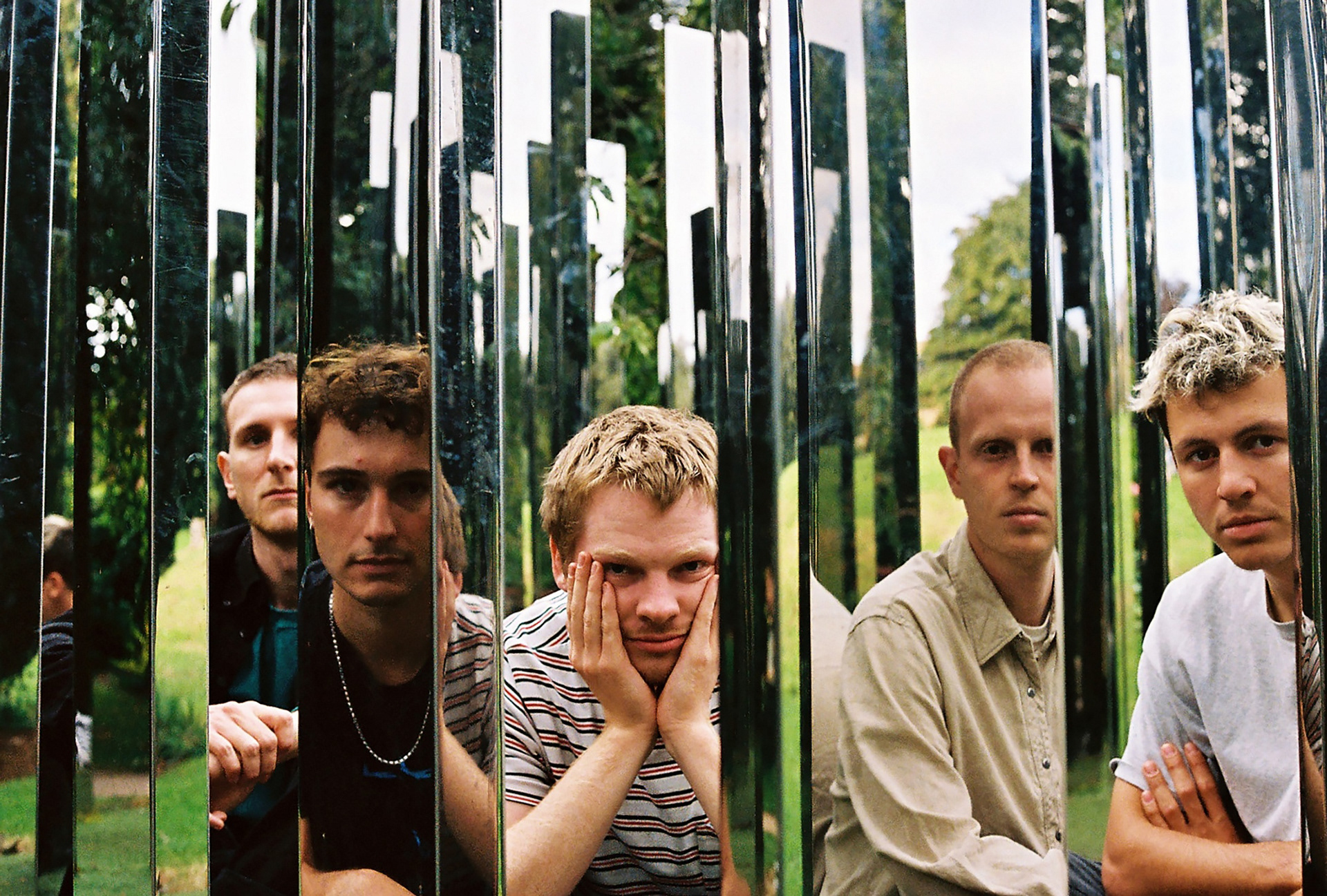 Striking the balance between chaos and cohesion,
BRIGHT GREEN FIELD
, the debut album from
SQUID
, throws caution to the wind with its feral experimentation and breakneck urgency. But, above all, it delivers on the promise of their legendary live performances; their dynamic, wild and unfettered creativity which has cemented SQUID as British music's revolutionaries.
While their previous smattering of EPs and singles delved playfully into the mania of the mundane and were wildly celebrated – their seminal
Town Centre
EP was described by Pitchfork as "a declaration of limitlessness" –
BRIGHT GREEN FIELD
is a clean slate. A collection of previously unheard tracks that underline just how limitless SQUID really are; always propelled, in the words of guitarist Anton Pearson, "by the urgency of something new". 
Recorded in the basement studio of producer Dan Carey (
Black Midi, Fontaines DC, Kate Tempest
) in the midst of a heatwave, the album is also a testament to collaboration. Drawing on the otherworldly Martha Skye Murphy on the funk-driven forerunner Narrator that unravels into frenetic anarchy, the band unearth new and surprising dimensions. The release of was accompanied by their mind-bending, first ever video, directed by Felix Green
BRIGHT GREEN FIELD features field recordings of ringing church bells, tooting bees, microphones swinging from the ceiling orbiting a room of guitar amps, a distorted choir of 30 voices, as well as a horn and string ensemble featuring the likes of Emma-Jean Thackray and Lewis Evans from Black Country, New Road. 
The record draws not only on a barrel of sonic influences – feverish post-punk to cosmic-jazz – but also a library's worth of literary influences. Every aspect of this record has been precision-engineered to feed into SQUID's carefully considered concepts. After reading Douglas Coupland's belief that we're living in the Extreme Present, and Mark Fisher and Merlin Coverley's writings on Hauntology and the slow cancellation of the future, the group turned to crafting a dystopian and futurist landscape reflective of the one we live in.
BRIGHT GREEN FIELD is an album of towering scope and ambition, it is deeply considered, paced and intricately constructed. With all band members playing such a vital and equal role, the album is very much the product of five heads operating as one.
Formed in Brighton SQUID is the brainchild of:
•    LOUIS BORLASE (guitar and vocals) 
•    OLLIE JUDGE (drums and lead vocals) 
•    ARTHUR LEADBETTER (keyboards, strings and percussion) 
•    LAURIE NANKIVELL (bass and brass)  
•    ANTON PEARSON (guitars and vocals) 

BRIGHT GREEN FIELD track listing:
•    Resolution Square
•    G.S.K
•    Narrator feat. Martha Skye Murphy
•    Boy Racers
•    Paddling
•    Documentary Filmmaker
•    2010
•    The Flyover
•    Peel St
•    Global Groove
•    Pamphlets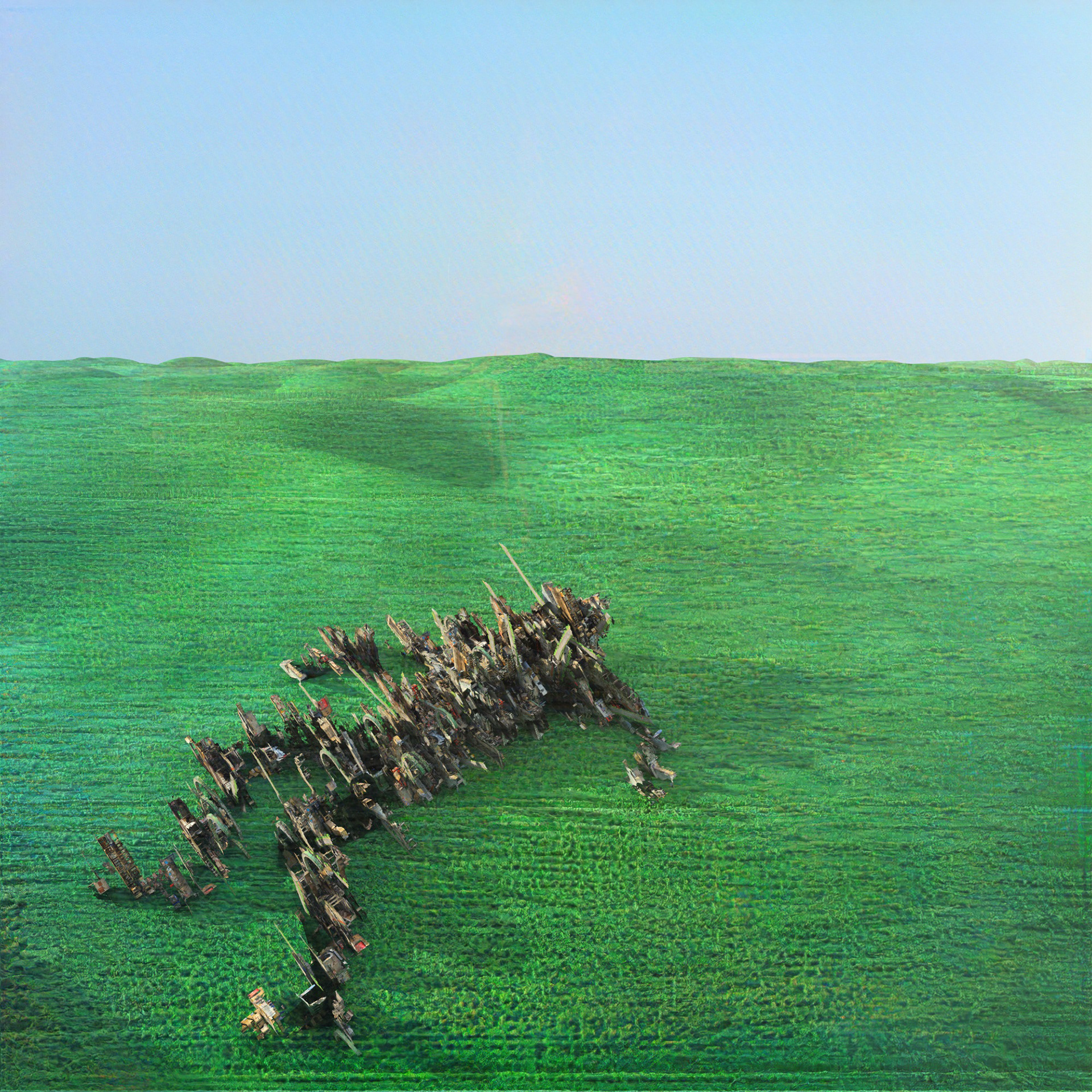 Following the recent announcements of the band's socially distanced Fieldworks tour this Spring, the rescheduled 2020 dates in July, the album tour in the autumn, and their first ever headline tour of the USA in November, SQUID have now also been confirmed to perform on Later with Jools Holland on FRIDAY 21 MAY at 10pm on BBC Two.

Wed    19    FALMOUTH        Cornish Bank
Thu    20    TOTNES            St Mary's
Sat    22    BRISTOL            Cube *
Wed    26    CHIPPENHAM        Old Road Tavern *
Fri    28    HULL            Adelphi *
Tue    01    SHEFFIELD        Leadmill
Thu    03    MANCHESTER        Stoller Hall *
Sat    05    LONDON        Silver Building *
Mon    07    NORWICH        Halls
Wed    09    BEXHILL ON SEA        De La Warr Pavilion
Sat    12    MARGATE        Cliftonville Hall
* Two shows back to back
Mon    12    BRIGHTON        Chalk
Tue    13    SOUTHAMPTON        Joiners
Wed    14    OXFORD            Bullingdon
Thu    15    LONDON        Scala
Sat    17    MANCHESTER        White Hotel
Sun    18    HEBDEN BRIDGE        Trades Club
Mon    19    EDINBURGH        Summerhall
Tue    20    YORK            Crescent
Mon    26    BIRMINGHAM        Castle & Falcon
Tue    27    BEDFORD        Esquires
Wed    28    NORWICH        Arts Centre
BRIGHT GREEN FIELD HEADLINE TOUR
Tue    07    BRIGHTON        Concorde 2
Thu    09    BRISTOL            Marble Factory
Fri    10    MANCHESTER        Albert Hall
Thu    23    LONDON        Printworks
Fri    24    BIRMINGHAM        Crossing
Sat    25    NOTTINGHAM        Rock City
Mon     27    NEWCASTLE        NUSU
Tue    28    GLASGOW        SWG3
Wed    29    BELFAST            Empire
Thu    30    DUBLIN            Button Factory
Sun    03    CARDIFF            Tramshed
Mon    04    SOUTHAMPTON        The 1865
Tue    05    EXETER            Phoenix