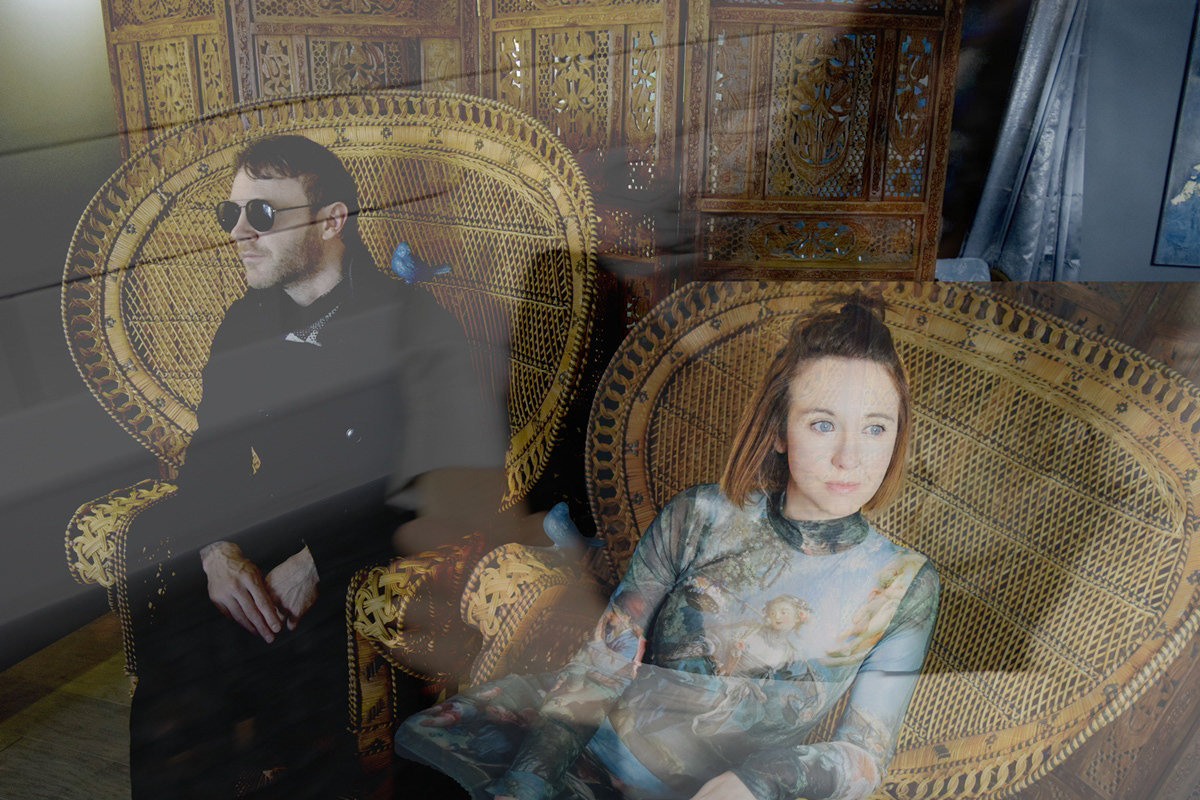 The Joy Formidable are sharing a video for their single "Interval", filmed at Coral Pink Sand Dunes in Southern Utah. "Interval" is the latest single to be taken from forthcoming album Into To The Blue.
Lead singer and guitarist Ritzy Bryan comments: "The Coral Pink Sand Dunes are one of my favourite spots in Southern Utah , mountains of moving sand that constantly change their size and shape. This shifting landscape feels like a perfect setting for a song about change and finding yourself at a juncture in life. It's a rejection of being someones temporary amusement, we all deserve truth & to find people who bring us sunshine & love enduringly. Running and falling off 80ft dunes was a very visceral way of feeling that freedom again. You are not defined by the deception or manipulation you've encountered. You've stayed strong, picked up the pieces and moved on to live the authentic life you deserve."
Into The Blue follows the band's critically acclaimed, kaleidoscopic 2018 album AAARTH, during which the band played the mainstage at Reading & Leeds Festival, supported Foo Fighters on their North American tour, and were invited by The Cure's Robert Smith to play his Meltdown Festival at the South Bank, London, and Pasadena Daydream Fest in LA. The band's new album will arrive into a much different world this time around, but it is birthed possessing a new energy and inventiveness. Even during the worst of times, their music finds a way to inspire and thrive.
New single "Interval" follows previous tracks "Chimes", "Back To Nothing" and "Into The Blue" - dubbed "as confident and impressive as ever" by Huw Stephens on BBC 6 Music - and marks itself out as a nimble and propulsive new outing.
Into The Blue by The Joy Formidable will be released on August 20th 2021 on limited edition colour vinyl, CD and digital download. Pre-order the album
HERE
.
For The Joy Formidable, Into The Blue has come to symbolize a period in which anything felt possible. The world stands in a fine balancing act where no bad deed can shock anymore, yet good things can still happen. It is this second side of the coin that brings a resilient, more ethereal quality and magic to Into The Blue, as the band embraces a growth mindset, leaning into the idea that uncertainty needn't be something to fear. As lead singer and guitarist Ritzy Bryan sings on the album's title track "You see me for what I am, I don't have to guess any more", a great strength is found in turning feelings of being unaccepted and misunderstood into self-love and connection. We find them abandoning the idea of safety and security from the wider world, and instead searching for it within, happy to be surprised by life again.
"Into the Blue is about opening your eyes to beauty & love again. Making it to the other side. Whilst not conceived as a metaphor for the times we all live in now, it certainly turned out that way."
Ritzy, Rhydian & Matt - The Joy Formidable
New album Into The Blue was written in North Wales and later completed at Ritzy's home in Utah.
The Joy Formidable - Into The Blue album track listing
1. Into The Blue
2. Chimes
3. Sevier
4. Interval
5. Farrago
6. Gotta Feed My Dog
7. Somewhere New
8. Bring It To The Front
9. Back To Nothing
10. Only Once
11. Left Too Soon