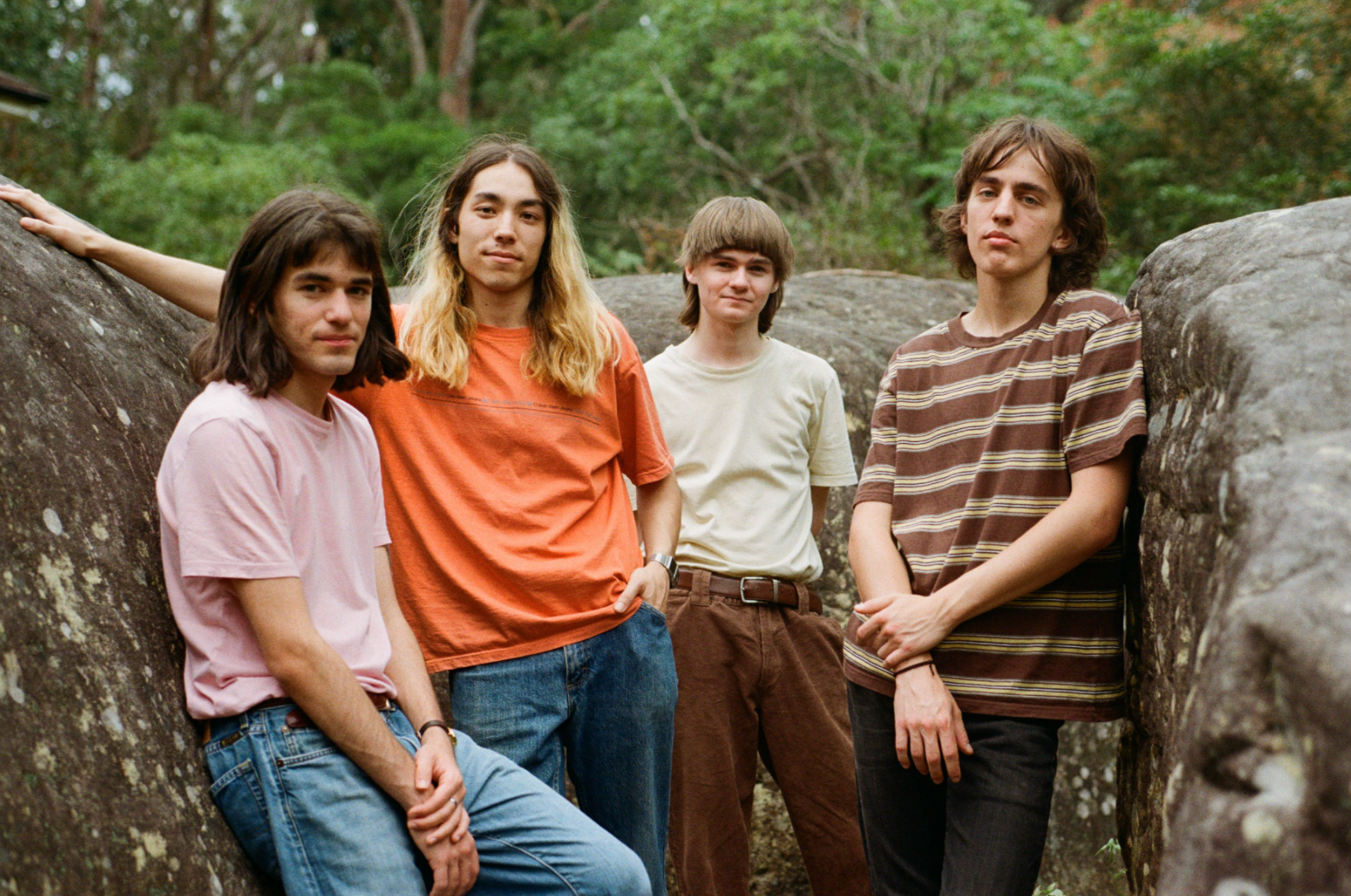 The Lazy Eyes
today unveil their kaleidoscopic latest offering, a psychedelic meets '70s-era slow pop ballad, "
Nobody Taught Me
".
A wandering, playful melody paired with their signature maturity-exceeding-their-years level of arrangements makes for a lovely ride on "
Nobody Taught Me
". Frontman Harvey Geraghty wrote it remembering his summers growing up visiting grandparents in England and the nostalgic, childlike first feeling of loss when the neighborhood kids all of a sudden moved away one year. Twinkly keys and carefully placed guitar flourishes demonstrate further new depths to their sound.
Harvey explains, "When I was younger, I would visit my grandparents who live in England every few years. On this one trip, I became friends with the kids who lived on my grandparents' street. We would meet up everyday and do things that kids do like run around, have a hit with a tennis ball, play hide and seek, you know. Then the next time I went to England, I was so excited to catch up and play with them again only to find out that they had all left and moved houses. It was pretty sad but I still had a nice trip hanging out with my grandparents (who cameo in the music video). 'Nobody Taught Me' encapsulates the good and the sad times experienced in England, from the excitement of playing on that street to the heartbreak of being left alone."
"
Nobody Taught Me
" by The Lazy Eyes is out now.
The Lazy Eyes are four young musicians who met at a Sydney high school: Harvey Geraghty (vocals, guitar, keyboard), Itay Shachar (vocals, guitar), Leon Karagic (bass), and Noah Martin (drums).
At 16 years old, they started making music together and have since built a cult-like national following for their magnetic, jam-filled live sets. On the heels of their debut release (EP1 in June 2020), they went on to sell out national headline shows across Australia and garner top praise internationally from the likes of the BBC's Jack Saunders, Apple Music's Matt Wilkinson, Bandcamp, SPIN, NME, DIY Mag, The Line of Best Fit, i-D, CLASH, So Young, triple j and more.
Garnering a worldwide audience during a years long global pandemic is no easy feat, yet The Lazy Eyes have managed to keep growing. The first single off their upcoming second EP, psych mind-melter, "
Where's My Brain???
", connected strongly across the pond with praise rolling in from NME, Clash, So Young, DIY, Gigwise, Far Out, The Independent, Rough Trade, The Forty-Five and more.