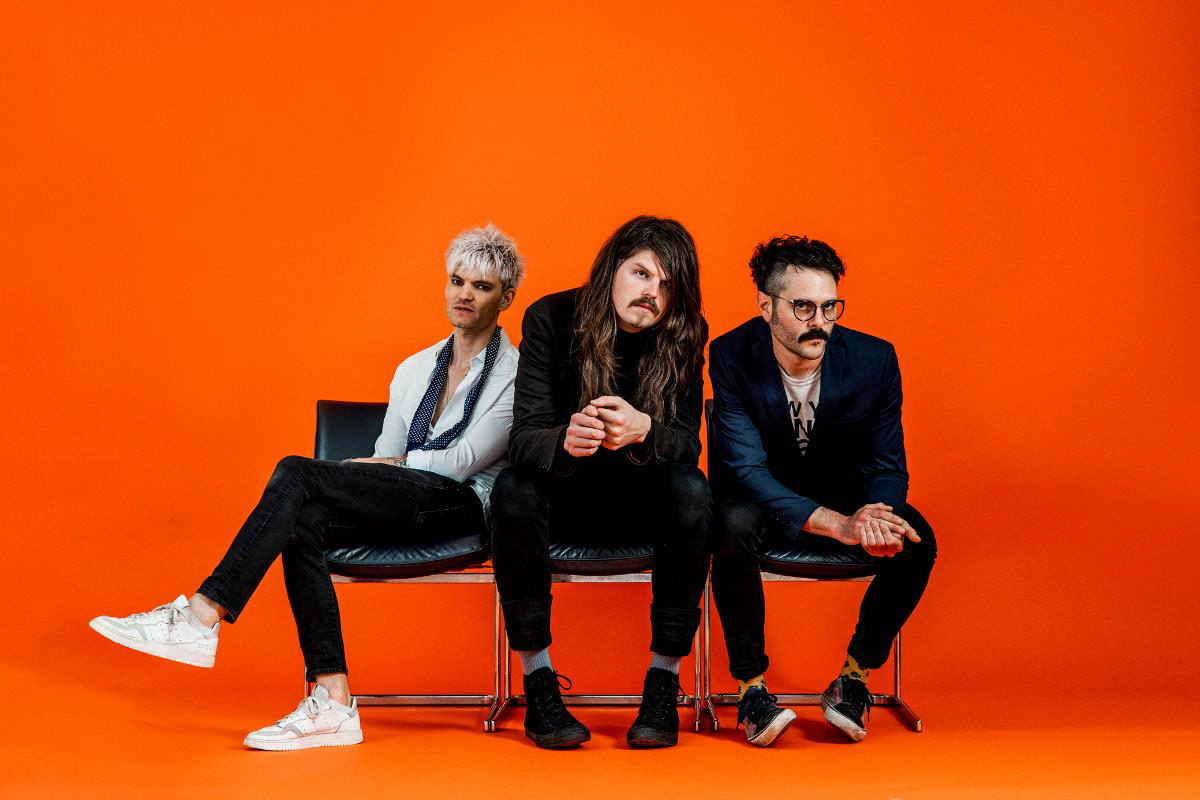 Tigercub have rewarded us with a steady stream of strong singles this year with the likes of "Beauty", "Beat On My Heart (Like A Bass Drum)", "Blue Mist In My Head" and the gentle "Funeral" all shared with us since the announcement of their much-anticipated second album, "As Blue As Indigo", out tomorrow on June 18th through Blame Recordings. 
The record, that Upset calls one to "cement them at the top of the food chain", was written and produced by the band's own Jamie Stephen Hall, engineered and co-produced by Adrian Bushby (Foo Fighters, Muse) and subsequently mixed by Tom Dalgety (Pixies, Ghost, Royal Blood). Written over two years, "As Blue As Indigo" champions introspection drawing on the subjectivity of colour.

Tigercub today share a last taster of the record - already confirmed as Radio 1's Rockest Record, "Sleepwalker" is set to become an immediate fan favourite. Heavy, cascading riffs are paired to Jamie's transcendent vocals, providing a new Tigercub signature anthem absolutely built for the live arena.

Jamie had the following to say about the themes behind their latest song:
"I try to be happy in my helpless mind. My depression is an illness that seems to sleepwalk into my consciousness out of nowhere and can totally shut me down. Despite my best efforts I can't control it, it makes me manic and up until this record I just couldn't talk about it. Writing 'As Blue As Indigo' was one of the most cathartic periods of my life, it took a piece of me.
Sleepwalker is another piece of the puzzle, the next phase of my mental re-appraisal. It is Tigercub at its absolute heaviest. "
The band announced a headline tour last month and are also delighted to be taking part in Download's Pilot event this coming weekend, performing on the Saturday 19th June.
In celebration of the critically-acclaimed record, the band bring their incendiary live show online for a very special
livestream release party
on 23 June 8PM BST.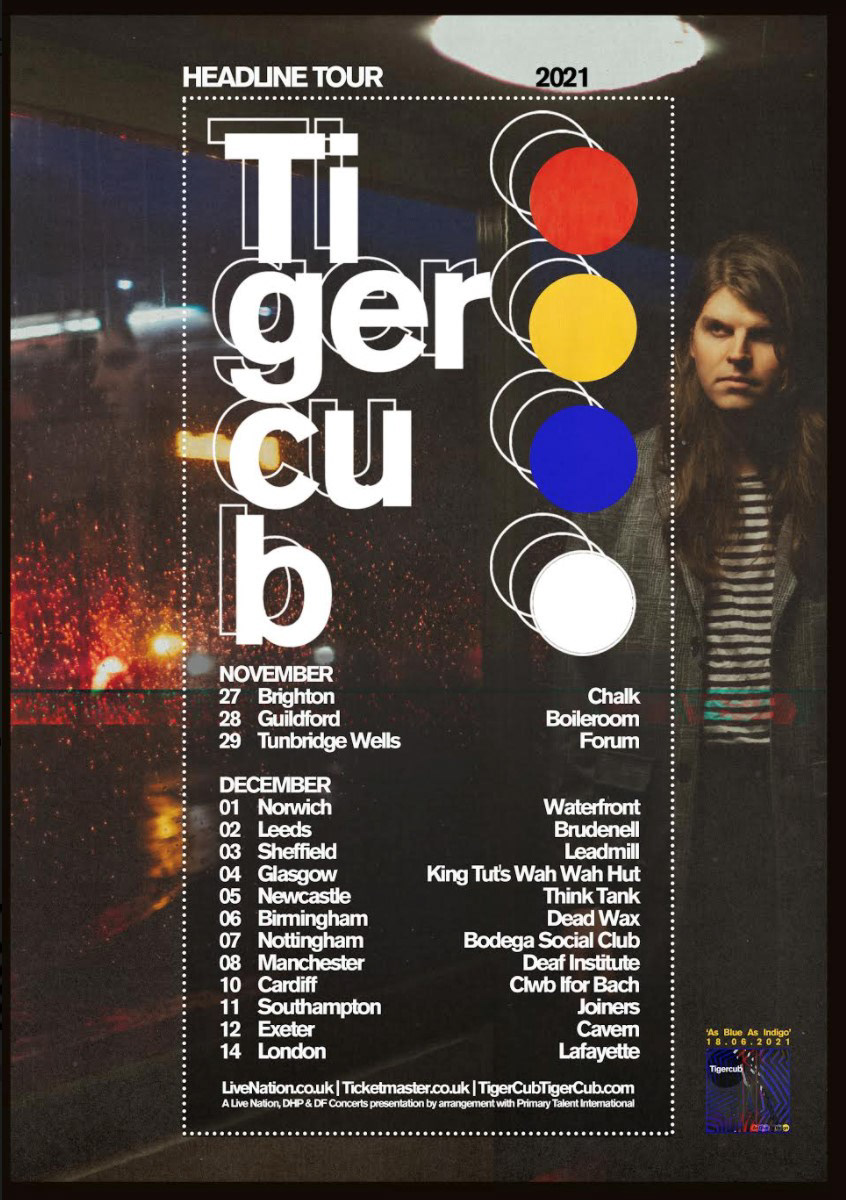 Tigercub will be playing the following live dates:
June
19: Donington, Donington Park - Download Festival
23: Livestream Release Party – Moment House
November
27: Brighton, England - CHALK
28: Guildford, Surrey, England - The Boiler Room
29: Tunbridge Wells, England - The Forum
December
01: Norwich, England -  The Waterfront
02: Leeds, England - Brudenell
03: Sheffield, England - The Leadmill
04: Glasgow, Scotland - King Tut's Wah Wah Hut
05: Newcastle, England - The Think Tank
06: Birmingham, England - Dead Wax
07: Nottingham, England - Bodega Social Club
08: Manchester, England - The Deaf Institute
10: Cardiff, Wales - Clwb Ifor Bach
11: Southampton, England - The Joiners 
12: Exeter, Devon, England - The Cavern 
14: London, England - Lafayette
Jamie, who stands 7 foot tall and is the band's sole songwriter, claims the creative fire for "As Blue As Indigo" was sparked by colour theory and the notion that what each human eye sees as colour could be totally subjective. That idea led him to explore his own personal issues through a similar prism, exploring topics including anxiety, depression, toxic masculinity, the death of his grandmother and the recent suicide of a close friend; and in turn began spinning the lyrical thread that ties the entire record together. Putting himself under the microscope was to become key:
"I never really felt in the past that I could talk about really personal things. I'd always used a mask. It's quite easy to do that because you're not exposing yourself in anyway. I'd always subconsciously tried to shy away from talking about myself," he notes. "I didn't want to do that anymore. I wanted this to be about me and process my emotions for the first time. I think that's made us more genuine and authentic as a band"
 "As Blue As Indigo" is as colourful a journey as the vivid title suggests, its ten tracks span the progressive to the immediate, the gentle to the monolithic, and most of all fulfill the significant potential the band have always promised. "As Blue As Indigo" is an album that looks set to cement their place at the top table of British rock acts in 2021.
Tigercub: As Blue As Indigo
Out June 18th via Blame Recordings
Pre-order
HERE
1. As Blue As Indigo
2. Sleepwalker
3. Blue Mist In My Head
4. Stop Beating On My Heart (Like A Bass Drum)
5. Funeral
6. Built To Fail
7. Shame
8. As Long You're Next To Me
9. Beauty
10. In The Autumn Of My Years