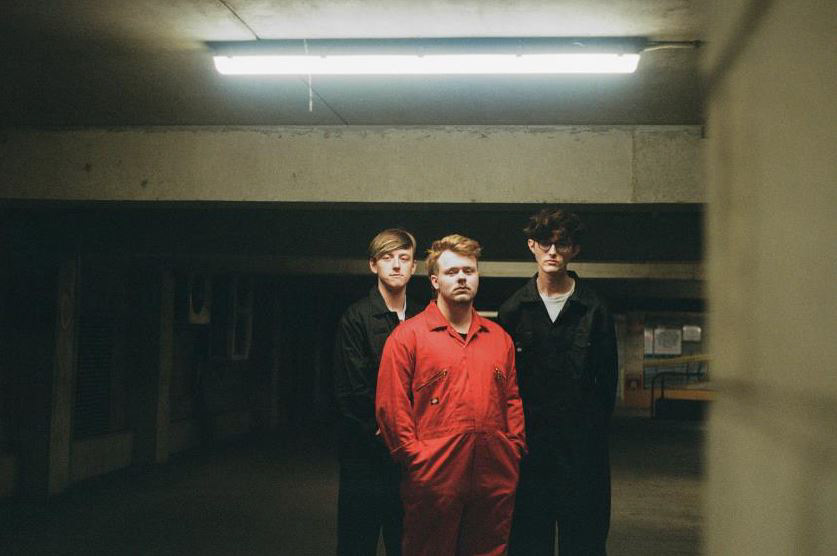 Villa In France, formally kicking off in December 2018, are a 3-Piece Indie-Rock band from the North Coast of Northern Ireland consisting of Aidan Davidson (Vocals, Rhythm Guitar), Nino Morelli (Lead Guitar, Backup vocals) and Matthew Gillan (Drums). The band are well known for their loud punchy sound and high energetic live performances. Having gigged all around the North of Ireland, these three boys have solidified a position in their local music scene through hard work and rigorous trial and error.

They've now released their new single, 'Burned Out', a song originally written by Davidson on an acoustic guitar in his bedroom, just like any other he creates. These lyrics show a vulnerable side to Davidson, opening up about his struggles with feeling mentally fatigued and drained from being a working musician while also being in college. He was stuck in a headspace of feeling that everything was temporary and that everything would fall out from under him if he were to take a breather from his busy schedule. He writes about a feeling of fragile stability and how people would do anything to maintain that stability within their lives, "living in sandcastles, blood on their hands".
In the song he says "when it breaks, oh lord does it break, when it shakes, it makes an earthquake" reflecting on how when you the rug is swept from between your feet you fall harder than you have ever before. During this time there was some conflict between the band as everyone would have with people they spent everyday with and Davidson was writing about his fear of losing something with his friends that he has worked so hard for. Davidson noticed he was being extra hard on himself during this time but couldn't lift himself out of the slump that he was in, highlighted in the second verse "I've got no creative bone in my body - I laugh at reality 'cause the truths always funny".
Davidson has always been a rather visual artist so he heavily correlates music with imagery and has always wanted this song to feel like a melting candle. Davidson brought this acoustic track to the band a while later and talked to them about the situation he was struggling with and showed them the piece he had written and they loved it. They started composing parts to the song together and played it at a live show right before lockdown hit. Once they were able to reunite with one another, they decided to start getting to work on the production of the track and did all the production themselves.
This song is the first single off their Debut EP, which felt the most authentic to them as it was the first song they had written that highlighted their new style and really shows their musical growth from their first singles that were written when Davidson was 15 to this single that was written when he was 18. These years are crucial for many young artists as they find their own sound and develop who they want to be as a musician. This single really showcases where Villa in France are on their musical journey and what the future might have in store for their listeners.

At such a young age, Villa in France have been travelling around the country providing energetic performances to whoever would watch them. Villa in France are known for writing politically charged and personal lyrics from the honest perspective of a teenager. Influences include Radiohead, Phoebe Bridgers and Cleopatrick.
Their debut single '1990', released on 13th September 2019, pushed Villa in France into another high in their career, gaining over 16,000 streams on Spotify with their nationwide tour opening them to a growing audience. '1990' is standard Indie Pop-Rock with some major Funk influence. This song was written by Davidson at age 16 after hearing his mother talk about how she and his father fell in love. This song proved to their audience that they could also be successful recording artists as well as touring musicians.
Their 2nd Single 'Flowers' then came out in December 2019, receiving praise for the refreshing emo sound, being listed as one of the best Northern Irish Tracks of the Year by Irish Music Blog Chordblossom the same month it was released. This song has since amassed over 19,000 streams on Spotify and is a fan favourite.
Villa in France's third single 'Man on a Bridge' (released March 2020) tackles the mature topic of male suicide rates in N.I. Ever since starting college in Derry in 2018 the boys have grown a second home in Derry and have noticed the impact drugs, poverty and history have had on the people of Derry, especially men. This single was to set them off on yet another nationwide tour but had unfortunately been postponed until further notice due to the COVID-19 pandemic. Despite the pandemic, this song has amassed over 11,000 streams and was praised by the public for its mature songwriting content.
A remix of their debut single '1990' by their friend Conor McSherry was released on music streaming platforms in May 2020, reimagining the single into a summer hit. The remix gained popularity through Spotify Playlisting and has been streamed over 53,000 times.
Their fourth single 'Faux Feelings' was released in August 2020 and gained 8,500 streams. It was praised for its mature theme of animal cruelty and the usage of animal pelts in fashion. This song would be the last song Villa in France would release in 2020. Villa in France spent 2019 and 2020 releasing different tracks that would show off their versatility as musicians and recording artists and have since been focusing on refining their sound and finding their style as young musicians. The band is now focusing their time on recording and releasing their debut EP for an expected Autumn 2021 release.
The band have played festivals such as Stendhal Festival 2019 and are due to play this years festival. Other performances include supporting Brand New Friend and playing shows in The Atlantic Bar Portrush, Kelly's Portrush and Love and Death Belfast to name a few. The band are set to perform their long awaited hometown show in The Atlantic Portrush as part of their single launch on July 30th.