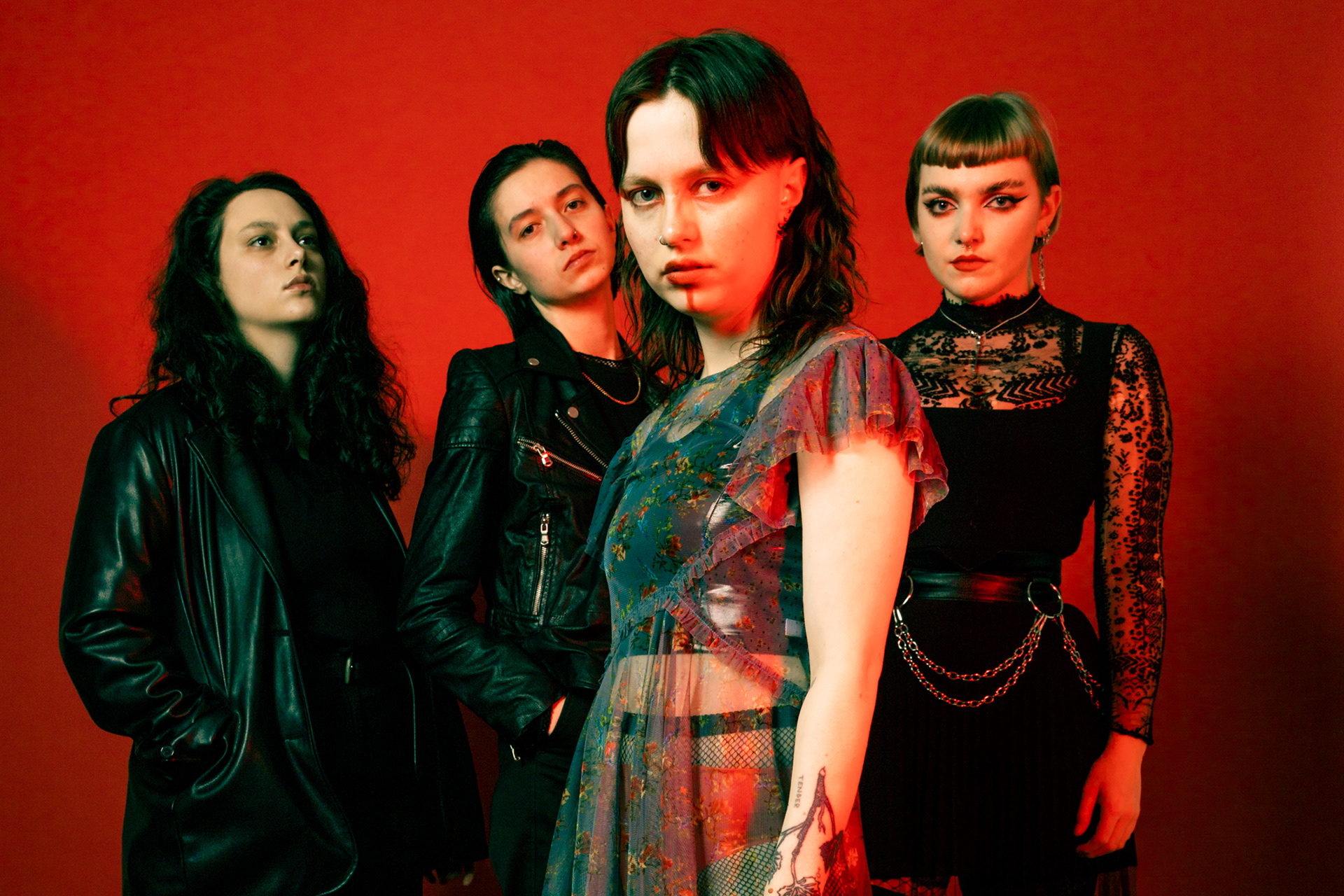 Forming four years ago after meeting through mutual friends, Manchester's Witch Fever have been sharply on the tip of tastemakers' tongues since their inception. Early last month they announced they had signed to Sony's Music For Nations, and have shared news of their debut EP Reincarnate to be released digitally on 15th October and physical 12" on 3rd December through indie stores and online only.

Tomorrow sees them set off on a UK tour supporting the political grime meets punk duo Bob Vylan, to be joined by 'ugly popstar' ZAND on selected dates.
TOUR INFO
BOB VYLAN SUPPORT TOUR - UK
28th July 2021  – Southampton, The Joiners
29th July 2021  – Stafford, Redrum
30th July 2021 – Manchester, Yes Basement
1st August 2021 - Milton Keynes, Crawford Arms
3rd August 2021 – Leicester, The Musician
4th August 2021 – Blackpool, Bootleg Social*
5th August 2021  – York, Fulford Arms
6th August 2021 – Leeds, Brudenell Social Club*
7th August 2021 – Cheltenham, Frog & Fiddle
10th August 2021 – St Albans, The Horn*
11th August 2021 – Brighton, Hope & Ruin* 
12th August 2021 – London, 100 Club*
13th August 2021 - Norwich, Waterfront Studio
16th August 2021 - Bristol, Exchange*
17th August  2021 – Guildford, The Boileroom
18th August 2021  – Forum, Tunbridge Wells
*With ZAND

Southampton, Manchester, Brighton, London, and Bristol have sold out, with tickets still available for the other dates
HERE
.
Witch Fever's name is inspired by the hysteria which accompanied the witch trials in Salem, Massachusetts, and Europe, which the band have long considered were a means to belittle, suppress and diminish women. 
William Morris, owner of the UK's largest mining plant, DGC, and originator of the British Arts and Crafts movement and arguably the finest wallpaper designer of his generation, coined the term Witch Fever, which was a phrase to dismiss arsenic and- wallpaper-related public health concerns in 1885.
In Germany, in 1814, Wilhelm Sattler created an extremely toxic arsenic and verdigris compound pigment, Schweinfurt green, known also as Paris, Vienna, or emerald green, which became an instant favourite amongst designers and manufacturers the world over, thanks to its versatility in creating enduring yellows, vivid greens, and brilliant blues.
Most insidiously, the arsenic-laced pigment made its way into intricately patterned, brightly coloured wallpapers and from there, as they became increasingly in vogue, into the Victorian home. As its use became widespread, commercial arsenic mines increased production to meet the near-insatiable demand. Not least of which was whose owner was William Morris.
Debut EP Reincarnate, which will be released digitally on 15th October, and a 12" physical vinyl that will be available 3rd December exclusively via indie record shops and online. In a time when Independent venues and record stores suffered most, it is important to the band to support what keeps alternative music alive in the UK.
"There's a big emphasis on female empowerment and female anger," says bassist Alex of the message raging behind the band's music. "It's about celebrating yourself and self-expression. Not being stifled and held back."
Recorded at Orgone Studios in Woburn, with producer Jaime Gomez Arellano, the EP explores those incendiary topics. Lead single 'Reincarnate' came out last month with a seductive video  and is an anthem of post-breakup independence, set to Sabbath-esque graveyard doom. 'In The Resurrect' is a visceral squall about celebrating identity and being a "bad ass bitch". 'Abject' tackles sexism the band have encountered during live shows, while 'Bully Boy' is a steel toe-capped boot to abuse of male power, which considers the concept of God within a patriarchal system.
On the EP, singer Amy says, "This is the first time we'll be releasing something longer than a single so it's very exciting for us! The EP doesn't really have a singular meaning behind it, it's a mix of what our favourite songs to date were! Some of them we wrote and finished during the lockdown and some are a few years old. The overall lyrical content is a cross between biblical and horror imagery as a way to explore empowerment, catharsis and anger. It's about owning my sexuality, my body and channelling my anger through music. With every piece of music we write we want to break the boundaries of a typical 'Witch Fever' song and push ourselves as musicians to keep evolving and getting out of our comfort zones! The more brutal the better!"
Concocting a potent sonic assault that recalls the foreboding darkness of Black Sabbath, Savages' monochrome post-punk, and the dirty breathlessness of Bleach-era Nirvana, Manchester's Witch Fever create a confrontational racket that takes no prisoners. Being named as ones to watch by NME, CLASH, Metro, and more, as well as championed by Fred Perry, Vans and even Orange Amps, Witch Fever are a band you'll want to keep a close eye on.
Reincarnate EP
out 15th October digitally / 3rd December on vinyl (pre-order
HERE
)
Tracklisting:
1. Reincarnate
2. In The Resurrect
3. Abject
4. In Birth
5. Initiation
6. Bully Boy