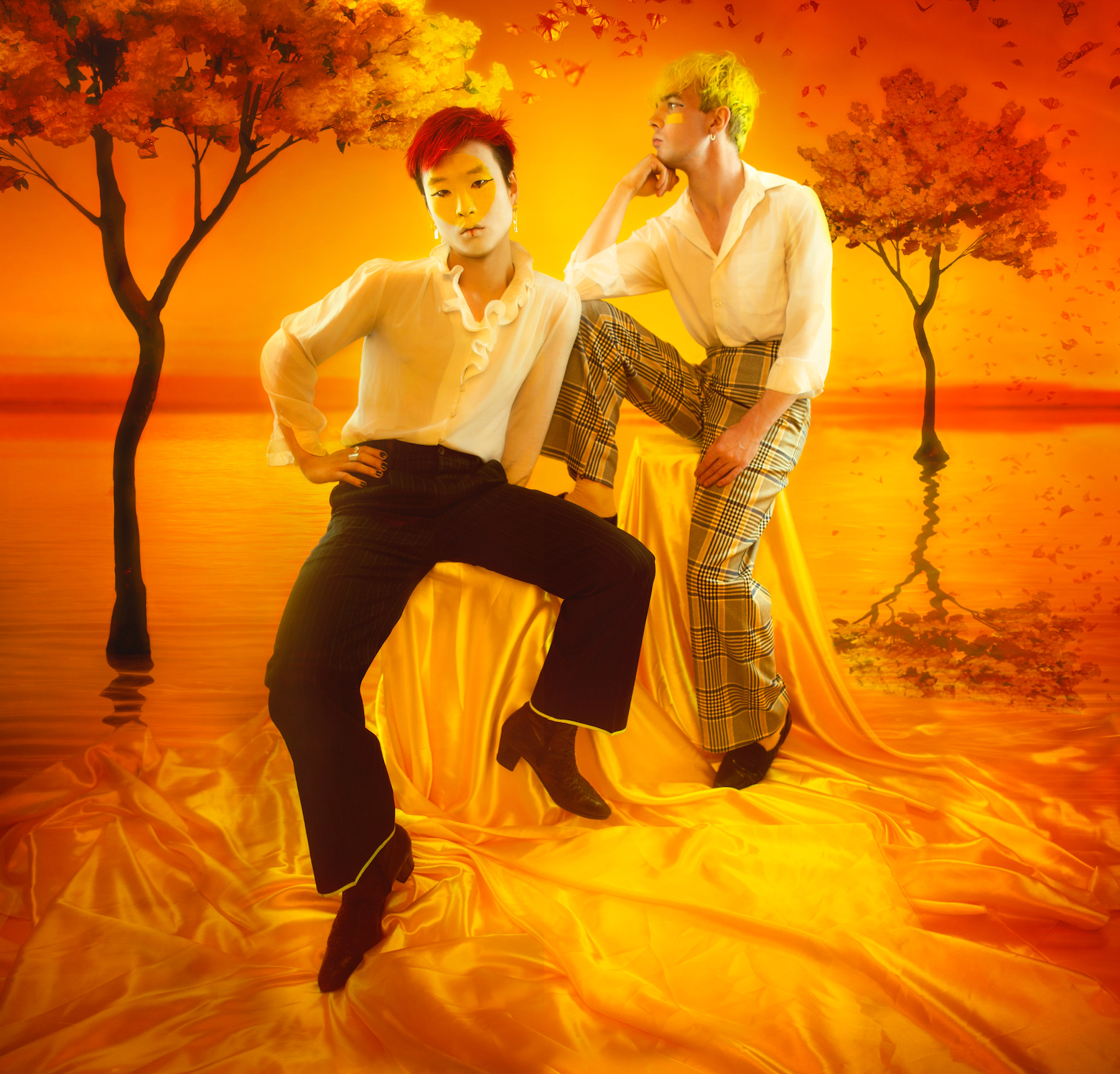 Today, inimitable London-duo WOOZE have shared a new single titled "Mighty Cloud". The new release comes on the heels of the band's return with the announcement of their much-anticipated sophomore EP "Get Me To A Nunnery", which will be released via London tastemaker-label Young Poet on 22nd October 2021.
The new single also follows the release of band's recent tracks "Witch Slap (IOU)" and "Tu Es Moi", which have seen their return lauded across press and radio with support from the likes BBC Radio 1 (Jack Saunders), KEXP, NME, DIY, Gigwise and more, as well as landing multiple Spotify playlist spots (including the cover of Melomania), racking up well over 150K streams.
A concise snapshot of the frenetic and hyperactive nature of the new EP, "Mighty Cloud" sees the band combine warped funk-meets-new wave guitar lines with eccentric 80's inspired vocals and groove-driven cosmic psych. Much like the two singles before it, this new song shows a heavier, more texturally rich side to WOOZE, which sees them pushing the limits of what is already an intoxicatingly borderless sound. However, none of this comes at the expense of a good melody, "Mighty Cloud" still carries that signature wonky pop undercurrent that is imbued into everything the band do.
Speaking about the single, the band say: "The soul of the song came from Bergman's 'Fanny and Alexander' and the tale that Uncle Isak tells about a young man travelling down an endless road. It's an ode to dissatisfaction and inadequacy and the ways we, as people, seek to alleviate this. We wrote it over the course of a hot and steamy week in the summer in Theo's bedroom in an attempt to alleviate our dissatisfaction and inadequacy, possibly coming from the fact we wilt in the heat."

Last month, WOOZE also shared a new live video of their recent single "Witch Slap (IOU)", filmed at Seoul Cabaret with the duo's long-term collaborator Nuri Jeong, who has also worked with the likes of K-pop singer Crush and rapper ZICO.
The video perfectly encapsulates the band's epiphanic live energy, which saw them build an ever-increasing cult following before the first lockdown. It also serves as a teaser of what is to come with the band eagerly planning new live dates for 2021/2022.
24th August –
DIY IRL showcase
– Signature Brew, London
30th October – Yes, Manchester
More info / tickets available
HERE
British/Korean duo WOOZE (named after a rough phonetic translation of 'space' in Korean - 우주) were formed in 2017 by Jamie She and Theo Spark. Having respectively cut their teeth under various musical guises across the London live circuit, the duo initially met through Brixton's Muddy Yard (an artist-led collective based in a disused builder's yard). Having moved to London to attend art school, Jamie and Theo met at the epicentre of the art scene surrounding the collective, utilising the space to hold art exhibitions, perform live, and work on various creative projects together – something that continues to be omnipresent in everything the band does. The pair initially bonded by covering each other's solo material and writing together before deciding to form WOOZE as their first truly collaborative project, spending time to hone their craft before releasing a series of well-received singles and videos.
Their 2019 debut EP 'what's on your mind?', firmly established WOOZE as one of the most original and exciting new acts in the UK, identifiable by their unique visuals as much as their genre-blending and enigmatic brand of avant-garde pop. The band received plaudits from Spotify, CLASH, NME, Mixmag, Dork and DIY and were championed by BBC Radio 1's Jack Saunders, KEXP, Triple J and 6 Music's Guy Garvey. They featured in their very own video game, supported Metronomy on tour, sold out a series of shows in South Korea and were named part of 'The NME 100' for 2020, all within a dizzying 12 months from their first release.
Following a COVID enforced hiatus, the duo returned to the studio with producer Tom Furse (The Horrors) to record their eagerly anticipated follow up. The resulting EP, "Get Me To A Nunnery," sees them delve into their heaviest and most dynamically complex work to-date. Thematically, the EP sees the duo continue to tackle deeply personal subjects which have been prevalent throughout their work so far such as inadequacy, self-doubt, relationships, estrangement, and identity crises. 
Combining Bowie-esque eccentricity with psychotropic instrumentation, the new material is at once anthemic and absurdist. Tracks such as "Witch Slap (IOU) see the band combining glam-inflected instrumentation, eccentric new wave vocals, and hook-heavy galactic psych riffs, whereas the EP's riff-heavy title track sees the band draw on 80s metal through their abstruse neon yellow filter, melding distorted guitar lines, with uplifting choral harmonies and ominous synth. The band cite an encyclopaedic range of influences from traditional Korean music to Primus, Japanese funk, ABBA, Led Zeppelin and further afield, all of which feed into their borderless alt-pop compositions without ever losing the distinctive and undefinable sound that has been uniquely theirs since the band's inception.
Following a meteoric rise over the last year, WOOZE continue to go from strength-to-strength, with an incredibly dedicated and continually expanding international fanbase growing alongside them. Whilst "what's on your mind?" saw the duo introduce their highly addictive, surreal and sonically gratifying blend of heavy pop to the world, "Get Me To A Nunnery" finds them at the most expansive yet, doubling down and concentrating every element of their intense and eclectic palette. For the long-term fans, this EP will exemplify the duo's unslakable creative thirst and need to evolve, and for those who are hearing them for the first time, there could be no better introduction.
"Get Me To A Nunnery" is out 22nd October 2021