Storm Dennis may have been raging outside, but that didn't stop a capacity audience turning out at Nuneaton's Queens Hall to see the last gig of Girlschool's latest UK tour. Formed in 1978, during the early years of the New Wave of British Heavy Metal, Girlschool is now the UK's longest-running all-female rock band. Like their contemporaries (and close associates) in Motörhead, Girlschool have blurred the boundaries between metal and punk, fusing elements from both genres to create their own distinctive sound.
The current line-up includes founder members Kim McAuliffe on lead vocals and rhythm guitar, and Denise Dufort on drums, together with Jackie Chambers (who joined the band in 2000) on lead guitar, and bassist Tracey Lamb, now on her third stint with the band (having replaced Enid Williams in 2019).
The evening began with a short set from The Cooler, who demonstrated their talent with a selection of rock covers. Next came London-based rockers Evyltyde, who are rapidly gaining a reputation as an up-and-coming band to follow. Lead singer Hannah Delaney's melodic vocals perfectly complemented fellow band members Danny Merton on guitar, Jeff Rolland on bass and Gavin Rodriguez on drums.
Evyltyde's set included several tracks from their most recent (and third) full-length album, Singularity, including 'The Genie', 'The Wall' and 'Never Fall', together with older material such as 'No Violet' and 'Dark Within'. Their hugely enjoyable and fast-paced performance displayed considerable musicianship and they are a band I look forward to seeing again.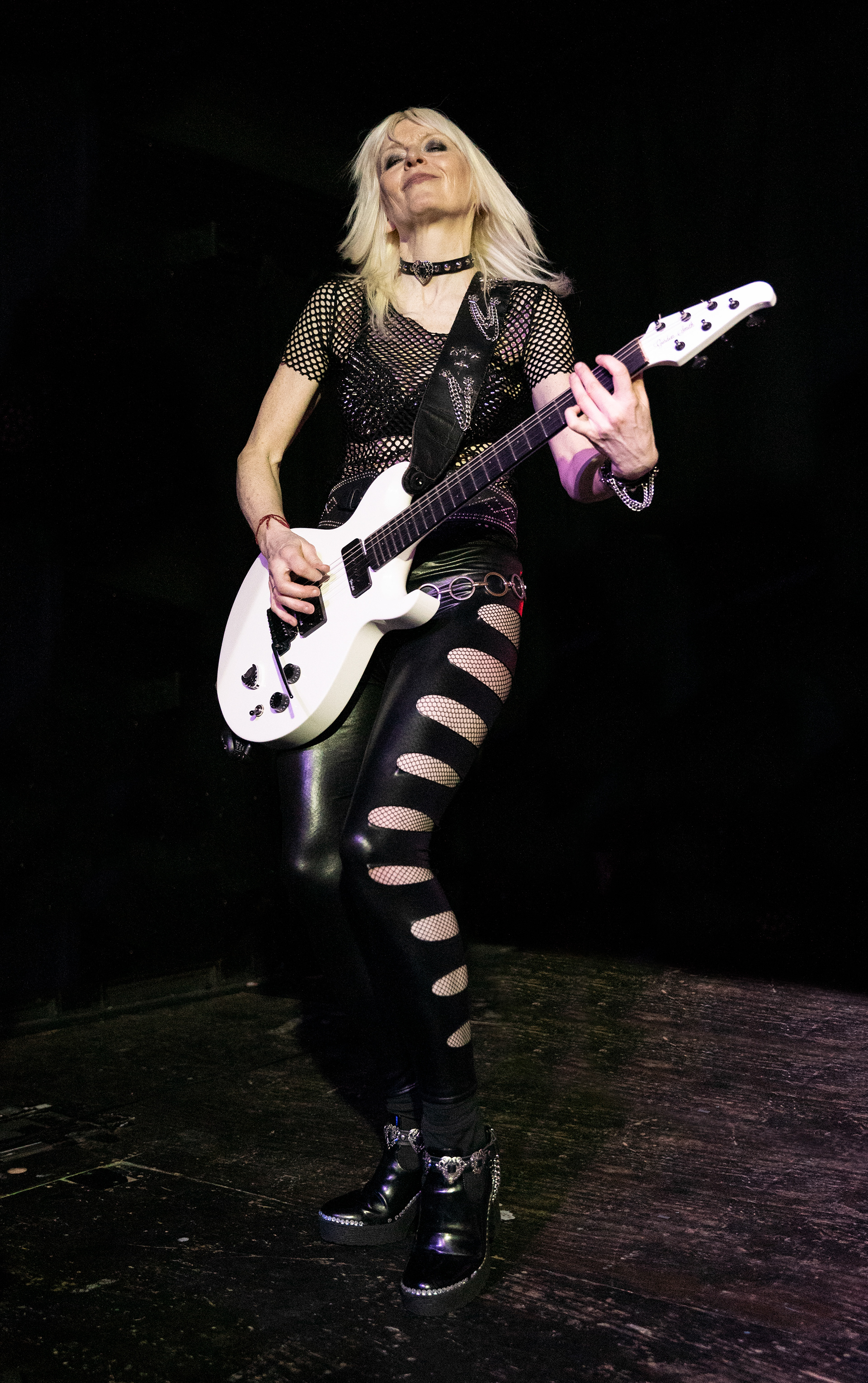 Now it was time for the headline act, and Girlschool hit the ground running with 'Demolition Boys', followed with barely a pause by 'C'mon Let's Go'. The band's energetic stage presence is evident from the outset, and is maintained throughout their set – here are skilled musicians who clearly love what they do, and this shines through their performance.
Next comes 'The Hunter' from their 1981 sophomore album, and then we jump forward to 2015 and the band's most recent studio album with the title track 'Guilty As Sin'. A rapid-fire series of classic Girlschool tracks follow, with 'Action', 'Hit and Run', 'Future Flash', 'Nothing To Lose' and 'Kick It Down'. There is no diminution in the band's energy as they play 'Take It Like A Band', also from their 2015 album.
'Watch Your Step' follows, and then it's time for some audience participation with 'Take It All Away', the band's first single which was released in December 1978. Jackie dangles the microphone over the front row, and everyone gets to have a turn at singing the chorus. It was this single that first brought the band to the attention of Motörhead's Lemmy, paving the way for the collaborations that followed.
'Take It All Away' is followed by 'Race With The Devil', and then a tribute to Lemmy with a cover of 'Bomber', before the main set reaches its climax with 'Emergency'. Two encores follow: 'Screaming Blue Murder', the title track of their 1982 album, and finally the ZZ Top cover 'Tush' that featured on their second album.
This outstanding gig marked the end of Girlschool's current tour, and what a fitting finale it was – the crowd's rapturous applause appropriately rewarded a night of excellent music. Be sure to catch a future concert whenever you get the opportunity – this is an experienced band with a great back catalogue who are at the top of their game. Unmissable.